Beaufort's most beautiful, benevolent holiday festival turns twenty-one.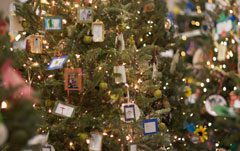 The 21st annual Festival of Trees, benefitting Friends of Caroline Hospice, will be held December 7 – 12 at the Charles L. Brown Neighborhood Activity Center (formerly the Greene Street Gym). As Beaufort's premier holiday event, the Festival includes a showcase of beautifully decorated trees, a grand Opening Gala with silent auction, a Gift and Gourmet shop and daily lunches. During these remarkable five days, the gym is transformed into a holiday wonderland, where simply stepping through the doors puts you in the holiday spirit.
In the past 20 years, Festival of Trees has raised over $700,000 for Friends of Caroline Hospice. The Festival is Friends of Caroline Hospice's largest fundraiser, helping them provide free care and volunteer services offering hope, encouragement and comfort to our friends and neighbors who live with life-threatening illness. Friends of Caroline Hospice is Beaufort County's only non-profit hospice funded entirely through local efforts – no reimbursements are received from insurance companies, Medicare or Medicaid, and, most importantly, nothing is charged to the patients or their families.
The Festival's Grand Opening Gala will be held Monday, December 7. Featuring food prepared by some of Beaufort's finest chefs, the Gala is a wonderful kick-off to the holiday season. Tickets may be obtained by contacting Pat Smith at (843) 525-6257.
The Festival is open to the public Tuesday, December 8 through Saturday, December 12. Admission is $3. The Festival facilities are also available for evening holiday parties. Contact Sally Mitchell at (843) 812-4304 for more information about this unique opportunity.
The Festival recently unveiled a new website, which offers specific information about all Festival events. The website is www.FestivalOfTreesBeaufort.com. Other exciting news for this year's Festival includes:
Festival Chairs
Dr. and Mrs. Lucius Laffitte and Dr. and Mrs. Clark Trask are this year's Honorary Chairs. Both the Laffittes and the Trasks have been involved with the Festival previously, and they are excited to serve as the Honorary Chairs. They explain, "We are grateful for Friends of Caroline Hospice. We greatly appreciate the value they provide patients, their caregivers and their families by providing free medical care and comfort, as well as free specialized support. Festival of Trees is the single most effective way to raise money for Friends of Caroline Hospice, and we are honored to be a part of this cherished tradition."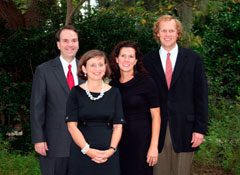 Mr. and Mrs. Jack Worrell are serving as this year's Volunteer Chairs. The Worrells will lead the many volunteers who devote their time to make the Festival a success. Having been volunteers for the Festival for over six years, the Worrells appreciate the enormous amount of effort that goes into making the Festival a success. "Since the needs Friends of Caroline Hospice addresses are not affected by the economy, it is vitally important we maintain our level of support to them," says Courtney Worrell. "We are grateful for the community support the Festival of Trees has received throughout the years, and we are looking forward to working with this year's committees and volunteers to ensure Friends of Caroline Hospice can continue their vital work."
Grayco Support
Grayco will once again be a major sponsor of the Festival of Trees by serving as this year's Tree Provider. Grayco works diligently with the Festival to provide beautiful live trees at reduced prices. Grayco, a leading building supply, hardware and rental equipment provider to professional contractors and local residents for more than 40 years, has been a faithful supporter of the Festival.
Festival highlights, both old and new, include: Silent Auction Hot Spots; Military Appreciation Day; Breakfast with Santa (a new event!); an expanded Gift & Gourmet Shop; wonderful lunches provided by Debbi Covington (The Lowcountry Weekly's own Everyday Gourmet!); and this year's Festival Quilt, "Blooming Nine Patch" by The Bobbins of Beaufort.
To learn more, visit The Festival's new website, which offers specific information about all Festival events. The website is www.FestivalOfTreesBeaufort.com. To inquire about sponsoring a tree, contact Jennifer Bailey at (843) 263-6496. For general information, call (843) 812-4304.
Festival Calendar
Monday, December 7 Grand Opening Reception 6:30 PM – 9:00 PM
Tuesday, December 8 Festival Open 11:00 AM – 7:00 PM
Lunches Available 11:00 AM – 1:00 PM
Wednesday, December 9 Military Appreciation Day
Festival Open 11:00 AM – 7:00 PM
Lunches Available 11:00 AM – 1:00 PM
Thursday, December 10 Festival Open 11:00 AM – 7:00 PM
Lunches Available 11:00 AM – 1:00 PM
Friday, December 11 Festival Open 11:00 AM – 7:00 PM
Lunches Available 11:00 AM – 1:00 PM
Saturday, December 12 Breakfast with Santa 8:00 AM – 11:00 AM
Festival Open 9:00 AM – 4:00 PM