Historic Beaufort will open its doors to visitors for three days, October 24 – 26, allowing an intimate view of 29 private homes, churches and private gardens at the Fall Festival of Houses & History.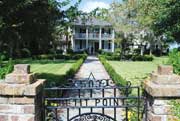 Sponsored by Historic Beaufort Foundation for more than 25 years, the tour features Beaufort's diverse architecture and interiors representing three centuries.
Distinct tours are offered each of the three days and include a candlelight tour in the National Historic Landmark on Friday night, a ramble around the historic district and to a plantation on Saturday and a culinary tour of homes on Sunday in the new urban community of Habersham, the original site of an 18th century plantation.
Homeowners, chefs and restaurants, garden clubs and 300 volunteers will join hands in support of the Foundation's main fundraiser to support preservation of this old port town which will celebrate its 300th anniversary in 2011. Community support and pride will be evident for the self-paced, self-guided tours.
The Friday candlelight tour starts just at dusk and will take visitors through eight historic houses, from modest cottages to grand residences dating circa 1820 through the turn of the 20th century. Clustered along moss-draped East Street in the Point neighborhood of the historic district, these homes reveal that historic architecture comes in all shapes and sizes.
Additionally, First African Baptist Church built in 1886 by a freedman congregation that had worshipped on the site since emancipation will be open. It was recognized by the State of South Carolina for its exterior restoration in 2007.
Saturday's tour will also open eight private residences, some recently restored and all featuring the homeowners' distinctive collections of period antiques, contemporary art and furnishings and American and Latin American folk art. The home of a nationally recognized artist and a nationally recognized antiques dealer will also be open.
Also on Saturday's tour are a historic private garden, the antebellum Baptist Church of Beaufort with its perfectly preserved plaster decorations, Wesley United Methodist Church founded in 1848, the art deco U.S. Federal Courthouse, a hidden Bay Street cottage that is under restoration and a traditional river house relocated for adaptive reuse outside of town. An allée of 200-year-old oaks will greet visitors to the gardens of Chelsea Plantation on the banks of the Chechessee River that once was the home of the Heyward family and is now the home of the Marshall Fields of Chicago.
Box lunches ordered in advance will be available on Saturday's tour at the Baptist Church of Beaufort.
Sunday's popular kitchens and cuisine tour takes visitors into six high-style contemporary kitchens in the new-urban development of Habersham. All within walking distance of each other and with water views, the traditional houses are situated among Sidewalks and walking trails that bring residents outdoors to experience the grounds which were the site of two antebellum plantations: Habersham Plantation and Campbell Plantation, also known as Prospect Hill Plantation.
Saturday's box lunch tickets are $16 and tour tickets are $40 per day. Both can be ordered online by going to www.historic-beaufort.org or by calling Historic Beaufort Foundation at 843-379-3331. A descriptive brochure and ticket order form is available by calling the Foundation. All sales are final and there are no refunds.