The Backyard Tourist gets vocal…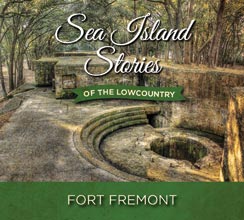 By Mark Shaffer
It's a breezy Sunday afternoon in May and I'm

hunched over a microphone in a recording studio in the spectacular new St. Helena public library pretending to be someone else. I'm doing my best to channel a young soldier named Will Bedford. The year is 1898 and like thousands of his peers, young Mr. Bedford's enlisted in the aftermath of the destruction of the U.S.S. Maine, swept up in the nation's battle cry, "To hell with Spain! Remember the Maine!"
Will and his comrades are stationed at Fort Fremont out at Land's End, not far from where I sit. I'm here to bring Will Bedford to life and help tell the amazing tale of one of the nation's great forgotten military landmarks. It's part of the first phase of an ambitious new project aimed at boosting interest in the area through a series of interconnected tours available by disc and download. My in-studio shepherds are the project point men. Bruce Doneff, public relations professional by day, serves as the project producer. Burton Sauls, founder and owner of the homegrown mobile media source CityTrex.com, is the creative force. Together they're overseeing a remarkable group of local talent (of which I am flattered to be included) in order to tell the stories of the Sea Islands best kept secrets: Hunting Island, Penn Center and Fort Fremont.
"This was originally Dick Geier's idea—the President of Friends of Hunting Island," says Bruce. "He asked me to step up, so about a year ago I wrote a project grant and applied for County A-tax dollars. We received about 85% of what we asked for, $25,000 in all. Along with Burton and myself, the three participating organizations are Penn Center, Friends of Fort Fremont, and Friends of Hunting Island."
Burton Sauls loves a good story. But what he really loves – what he considers to be
the CityTrex mission – is the telling of stories rooted in the rich and unique history and culture of the Lowcountry.
         "I knew we had the story to tell and authentic talent to create something real out of nothing but a vision," says Burton. "Dick and Bruce pushed, pulled, and made this happen. Dick was the first with the trust and vision to say, "Let's do this," and Bruce kept the focus and was often the public interface for the project."
The Sea Island Stories of the Lowcountry iTour is conducted over three segments, each available on CD or by download. Just punch "play" and go from the Woods Bridge to Frogmore Corner, take a right and stop at Penn Center. The second part takes you from Penn Center down to Lands End and Fort Fremont. Once you've concluded Fort Fremont travel along Seaside Road and eventually out to Hunting Island. Each tour takes about an hour and every bit of it – scripts, voices, production and design – was locally sourced.
Scripts were researched and written over a course of about three months. Lisa Rentz took on the archives of Penn Center while Janelle Proctor did the heavy digging on Fort Fremont. And Mary Ellen Thompson delved into the delicate and complicated ecosystem of Hunting Island with the help of zoologist Steve Danko. The CD art is an original series of designs by Tim Devine. Vocal performers include the formidable talents of the husband and wife writing/acting team of Natalie and Ron Daise. Natalie voiced the Penn Center tour, which Rentz says she wrote with Daise in mind. St. Helena native Ron Daise serves as the narrator for the entire project, tying the three segments together. I took on Will Bedford and the fascinating but little known history of Fort Fremont. Lowcountry Weekly Editor Margaret Evans, known for her work on the local stage, takes us through the maritime forests of Hunting Island. She came late to the project after local jazz musician Vic Varner was sidelined with allergies that contributed to voice issues.
"Bruce and I had done some theatre together and Burton had heard me read at the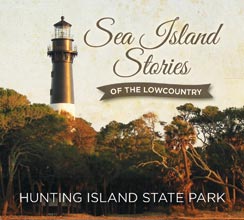 Short Story America Festival, and they both assured me I could do it," she says. "I was pretty nervous at first, but those guys quickly put me at ease and we ended up having a ball. Mary Ellen Thompson wrote an incredibly detailed and comprehensive script; all the hard work was hers. I just had to show up at the St. Helena's Library and read into a microphone about one of the most beautiful places on earth."
         "Our small town project team has done the job of at least thirty people," says Sauls. He says our Sea Island Stories have already attracted some unexpected fans. "We have praise from Skywalker Ranch – I've talked shop with former clients at Industrial Light and Magic and they marvel at our resourcefulness. And they want to visit Beaufort. Cultural tourism!"
"That's the best part," says Doneff. "You don't have to be here to take these tours. You can do this from a couch in Toronto in the middle of a blizzard." Doneff hopes the iTours will help to significantly boost Beaufort's online search profile within the next six months. And there's plenty more to come. As Phase One goes on sale, Phase Two is already being prepped. The continued expansion of the project is designed to be self-perpetuating with a significant portion of the proceeds funneled directly into research and development.
         "It's digital. It replicates," says Sauls who sees nearly unlimited potential. "New Media is our most powerful tool for interpretation, communication, and organizing. I hope the attention from iTour Beaufort will connect us to others globally that have shared interests, and I hope I can contribute to the effort."
         Doneff concurs. "These are unique experiences," he says. "There are many more stories to come."
         Stay tuned…

GET THE WHOLE STORY
For more information and to purchase and download the Sea Island Stories of the Lowcountry visit iTourBeaufort.com and CityTrex.com