The Beaufort Art Association will host a special exhibition of artworks by members of the Charleston Artist Guild which will open on Tuesday, November 4 and continue through Saturday, November 29. A reception will be held for the artists on Saturday evening, November 8, from 5:30 to 7:30 pm.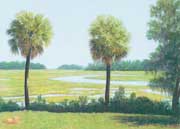 The Charleston Artist Guild, established in 1953, is one of Charleston's oldest arts organizations, and many of Charleston's finest artists got their start with the Guild. The CAG operates a gallery a 6 North Atlantic Wharf in Charleston's arts district and organizes numerous community outreach programs and exhibits.
Several of the Charleston artists who will be exhibit have shared their stories. Elaine H. Hruska, President of the Guild, began painting as a teenager. Her formal art studies included classes in New York at the Art Students League and the Cooper Union School of Art. Before embarking on business trips that take her throughout the world on business, Elaine always tucks a sketchpad inside her briefcase, allowing her to slip away and capture the very essence of the world around her. Thanks to extensive travel, Elaine has a deep appreciation for the contributions of many diverse cultures to 21st century art.
Today a resident of the Lowcountry, Elaine is enchanted by its charm and beauty, believing that "The luminosity and brilliance of pastels are especially suited for capturing the dichotomy of Charleston – old world charm wrapped in the warmth of cosmopolitan modernity."
Gayle Gilford, who also began studying art as a teenager, graduated from the University of South Carolina. Her career has included teaching on many levels. Gayle specializes in painting miniatures, and her subjects include realistic landscapes, lighthouses, seascapes, wildlife and pets, historic buildings, courtyards and fountains in the French Quarter of New Orleans and in Charleston, SC, and the natural beauty of the Carolina Low Country and "Old" Florida. Her works have won numerous awards in juried exhibitions and competitions.
Patricia Huff, working primarily in pastel, credits her study of Italian art and architecture while a student in Rome as a major inspiration. Her works capture memories of people and places, often through travels with loved ones. Her love of color and light fill her "with the awe of the beauty of God's creation . . . and praise for all that God has done."
At the conclusion of this landmark exhibit, Beaufort Art Association Gallery artists will begin planning their participation in a reciprocal exhibit at the CAG Gallery in 2009. The idea of this exchange came from Hetty Nijman, a long-time Beaufort Art Association member and Gallery artist. Hetty had the opportunity to visit Charleston frequently while traveling with her daughter, and became a member of the Charleston Guild. Last summer Hetty entered a painting in the Guild's juried exhibit and was accepted. Over time she became acquainted with the Guild officers, and thus the idea of this reciprocal exhibit was formed.
The Beaufort Art Association Gallery, at 1001 Bay Street, in the historic Elliott House, features the works of 80 member artists, including paintings in oil, watercolor and acrylic, works in collage, pastel, photography, glass, jewelry, wood, and note cards. Gallery hours are Monday through Saturday, 10 am to 5 pm. For more information please call 843-379-2222.