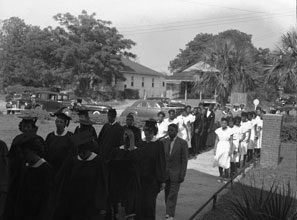 A legacy of hope and opportunity for almost 150 years
Many of my friends and neighbors do not know about The Mather School and its early leadership in teaching the daughters of freed slaves beginning in 1867. This uniquely Beaufort story needs to be told and celebrated.
Mather began at a time when the education of girls and women was rare in many cultures and societies. The Mather story is about more than buildings, funding and programs. The Mather story is about the transformational impact of education. Imagine if you can, the change being able to read makes in the life of a young girl whose parents and grandparents could not read. That girl can learn about the greater world outside the spoken history of her family. Imagine how that young girl in the aftermath of the Civil War and in the midst of Reconstruction, can begin to understand and explain those difficult times to her family and community. Now, think of the many millions of girls and young women around our world who are denied access to education. How will our world and our news headlines change when these women have the ability to read? The Mather story is important today because the Mather experience can inform the world about the impacts of educating young women. As our country engages in nation building in far reaches of the planet, the lessons learned here
during Reconstruction, the Jim Crow era and beyond are important. US Secretary of the Interior Bruce Babbitt visited Beaufort in 2000 and toured Reconstruction sites with historians Larry Rowland and Stephen Wise. Afterwards this Arizona native declared that the Reconstruction Story is not a Beaufort Story; it's not a South Carolina Story; it's a United States story that should be told. The Mather School has a place at the center of the Reconstruction story because of its mission, its location on the beautiful bluff overlooking the Beaufort River, and because the former grounds are still in use as a publicly funded Community College.
Some things to consider: Rachel Crane Mather opened Mather School in 1867 during Reconstruction and the Port Royal Experiment. Many of our great colleges and universities did not admit women for decades and in some cases for over a century. When the Mather School closed in 1969 and the campus became home to what is now The Technical College of the Lowcountry we slowly began to lose our community knowledge of this important institution. But there is hope!
Reasons for hope: Mayor Keyserling's initiative to create a Reconstruction center in Beaufort can help keep the Mather Story alive. Beaufort County Council and the Mayors are cooperating on an initiative to celebrate our heritage, culture and ecology for residents and visitors. Mather School can be a centerpiece of this effort along with Santa Elena, Penn Center, The Verdier House, Port Royal Sound Maritime Center, Mitchellville, Hayward House and Coastal Discovery Museum.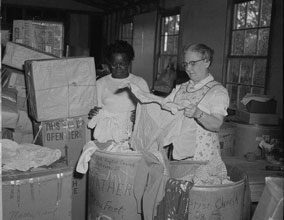 Mather Academy: The Beaufort Arts Council (BAC) has named its Arts and Crafts school the Mather Academy as a way to honor Mather School, raise awareness about Mather School and build on the Mather legacy. BAC has an active program called Mather Memories to interview Mather Alumni, staff and their families to record the personal stories of how Mather changed lives in this community. These interviews will be provided to TCL and Mather alumni groups.
Documents exist: Mather School documents are stored at Benedict College in Columbia and at TCL. We believe documents are in many homes and buildings in our community. New digital storage technology makes it possible to preserve the content of these documents and make that information broadly available for research and study.
150th birthday celebration: The 150th anniversary of Mather School's 1867 founding is rapidly approaching. Let's start planning now to celebrate Mather School. You can take some courses at Beaufort Arts Council's Mather Academy; If you have Mather Memories go online at Beaufort Arts Council and schedule time to record those memories. Let's work with the Mayor, County Council, TCL and Mather alumni groups to make this milestone special.
As TCL says on its website "So since its inception back in 1867, the school has seen many changes. But one thing remains constant – the belief that every human being deserves a chance to further their education."   That includes each of us learning about the Mather School.