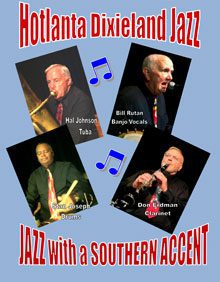 Whether it's seasonably cold and wet, unseasonably warm and wet, or just its old boring self, January in the Beaufort Barrier Islands isn't a heckuva lotta fun. Well,
this
January'll be different, because Sunday, January 24
th
,
Hotlanta
reprises at Fripp. Ring a bell? Well, only a few years ago
Hotlanta
gave a blowout performance at Beaufort's favorite seaside resort. The hand-clapping, toe-tapping crowd clamored for more, more, MORE! The Fripp Island Friends of Music philosophy is that too much of a good thing is GREAT, so
Hotlanta
is back to bring the lucky Lowcountry audience
the
genuine Bourbon Street New Orleans Mardi Gras experience (without the hangover). Free beads at the door; masks optional—arrive early to select songs you want to hear!
Hotlanta
has captured the inimitable joy, energy and humor of true Dixieland, that unique and brazen early American jazz musical art form, the way it was played by masters of their musical craft: Fats Waller, Hoagy Carmichael, Louis Armstrong & Jelly Roll Morton, to mention a few of the greats. Wait 'til y'all hear "Sweet Georgia Brown," "Hard Hearted Hannah," "Basin Street Blues," "Is it True What They Say About Dixie?," "When the Saints Go Marchin' In" and all the other timeless favorites from bygone days—the way they were meant to be heard!
Hotlanta is based in its namesake Georgia metropolis, but ever since super-talented jazz clarinetist/ saxophonist Don Erdman founded the group a quarter-century ago, it's performed throughout the South and way beyond. Hotlanta has captivated American audiences from New Orleans' renown French Quarter to the Brevard College Jazz Festival in North Carolina; from Charleston's Piccolo Spoleto FestivalI to the Fripp Island Friends of Music stage. Jazz-lovers the world-over know Hotlanta through performances at clubs and jazz festivals in Spain, Germany, Japan, France, Belgium, Finland, Denmark, Poland, Belarus, Singapore and Saudi Arabia, among a host of global places where folks in-the-know gather to enjoy first-rate, classic American Jazz.
The Fripp Friends of Music curtain goes up on Hotlanta at 5 pm, January 24th, Fripp Island Community Centre, 205 Tarpon Boulevard. Be set for a delightfully entertaining musical evening. As the last encore fades, there'll be a smile on your face—and you'll be smiling on the inside, too! Tickets at the door: Adults $25/$10 Students. Free pass at Fripp gate; all are invited to join the artists at a complimentary catered reception following the performance. For more information, visit http://www.islc.net/friendsofmusic/ or call (843) 838-6655.