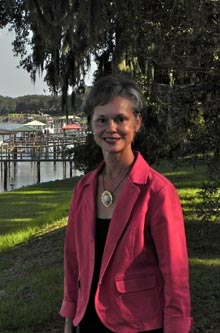 Colleen  Christensen, a woman who consistently gives back, takes a look at her own life and find
s inner peace
She is a girl, and she fights like one! Her name is Colleen Christensen, and she is a breast cancer survivor. She is also a relative, so her story is especially cherished.
Dr. Patricia Thompson at Beaufort OBGYN diagnosed Christensen with breast cancer in 2006 at the age of 52. While examining an inverted nipple, Dr. Thompson explained to Christensen, "You have cancer."
Shocked, Christensen could not comprehend what she'd just heard. She was healthy, ate raw vegetables every day and exercised. She'd been helping both of her sisters fight breast cancer. One endured a double mastectomy while the other battled a lumpectomy. Christensen was not supposed to have this dreaded disease as well.
But, she did. Richard Horton, her son-in-law, was the first family member to hear the news. He'd just happened to come to her office at Lifefit that day. He pulled her out of shock by repeating, "You're going to be fine. You can beat this."
Dr. Burrus confirmed the cancer with a biopsy, and Dr. Newberry recommended a portacath be installed under the skin to deliver the chemotherapy directly to her veins. Thankfully, surgery to remove the cancer went well, and Dr. Burrus couldn't wait until Monday to tell Colleen. He called her Sunday morning and said, "We got it all." Christensen received radiation as well to ensure the cancer's removal. She and her husband, Rhett, who had already lost three family members to cancer, could finally breath a sigh of relief.
Yes, she beat cancer. But, it would be months before Christensen would feel better. Psychologically, breast cancer was defeating her. She thought she had it all under control. She went to work daily, hid her depression from her family and co-workers and maintained what she thought was her since of dignity. She was losing a battle, and she didn't even know it.
One day, she called in sick to work, because she was crying uncontrollably. Her boss, Mark Senn said, "Well, it's about time. Take some time off and get some rest."
She confronted childhood issues that had been mentally blocked long ago and finally said, "Enough! I've beaten what could've killed me. Now it's time to start living."
She began to climb a ladder of emotional strength, and now she's at the top rung. She's determined to help those in need and find a cure for this deadly disease that is estimated to kill 39, 520 people in the U.S. in 2011.
She recently organized Pink Night Out at Charles & Company to benefit her team, the Beaufort Belles, at the Susan G. Komen Race for the Cure on Daniel Island this weekend. A huge success, the event not only raised money, but also raised awareness in Beaufort.
For a woman who consistently gives back, she is appreciative of all those people who gave to her.
"I have so many people to thank for helping me in my struggle with breast cancer. Drs. Burrus, Newberry and Thompson, who physically helped me tackle this disease; my wonderful colleagues at Lifefit at Beaufort Memorial for their unwavering support during my illness; Milbry Gnann, my mentor who would explain everything to me; and, of course, my family, who stood by me through it all," explains Christensen.
Now at peace with life, Christensen hopes to educate and counsel those women who need spiritual guidance and reassurance that everything's going to be okay. Her gift of compassion is her greatest attribute, and she'll stop at nothing to give back. That's just what she does.
I'm proud to call Colleen Christensen my aunt, for she is a woman of character, strength and grace. And, she fights like a girl!
Pink Night Out at Charles & Company
On Friday, October 7, more than seventy-five men and women of all ages came out to Charles & Company for Pink Night Out, a benefit to raise money for breast cancer awareness and celebrate life. Colleen Christensen, a breast cancer survivor, organized the event that raised hundreds of dollars.  Pink strands of hair were sold for $10, and the money generated helped a local team, the Beaufort Belles, in their total collection of donations for the Susan G. Komen Race for the Cure to be held on October 15th on Daniel Island. In addition, supporters bought raffle tickets for over twenty items donated from area merch
ants. That money will be used to help a local woman currently battling breast cancer in need of financial assistance.
Christensen, a well-known caterer and longtime cook, and the Beaufort Belles team made sweets and hors d'oeuvres for the party. Christensen also solicited all the raffle items and promoted the event.  An advocate for the Susan G. Komen Foundation, Christensen survived breast cancer and
now is a steadfast supporter and fundraiser to help find a cure. Her daughter, Tara Horton, works at Charles & Company. Horton and owners, Charles and Linda Lamendoza, offered the venue; and all of the stylists volunteered to add the pink strands, promote awareness and again, celebrate life in the name of Colleen Christensen: wife, mother, grandmother, aunt, sister and friend to many.
 If you didn't get the opportunity to attend Pink Night Out and want a pink strand of hair, you can still go to Charles & Company, located at 1613 North Street in downtown Beaufort. Proceeds will benefit the Beaufort Belles.
Why I wear Pink in October
When my mother told me she had breast cancer, I became numb with fear. Her mother, my grandmother, passed away from the horrible disease at the young age of 56. My mother was 52, and I was pregnant with my first baby, a daughter.
What had taken the life of my doting Granny had now found its way into Mama's body. For nearly two years, Mama struggled with the harsh physical effects of chemotherapy and breast reconstruction without a single tear. She gracefully donned wigs and scarves to mask the hair loss, but was also comfortable wearing nothing. Breast cancer might have attacked her body, but it was not going to control her mind and spirit. She faced this disease with absolute resolution of survival. There was no way she would leave this earth without getting to know her first grandchild.
When my daughter Abbie was born, I saw Mama cry for the first time since she'd learned of the diagnosis. And I rest assured that Mama was not crying because of weakness. She was crying because she'd been strong for too long. She was now a grandmother and wanted to be one for a very long time.
I was happy to bring Abbie and Julia, my youngest daughter, to Pink Night Out at Charles & Company last Friday. Stylists added pink strands of hair to their platinum blonde locks. Even at ages 7 and 8, they know the significance of the strands-to raise awareness of breast cancer, a disease that plagues their mother's family.
I look at these two beautiful girls every day, hoping and praying that there will be a cure for breast cancer by the time they reach adulthood. This month, I wear pink for them, for my Mama and my Granny. I also honor all those who have passed on and all those who have survived this disease.
Together, we will find a cure!