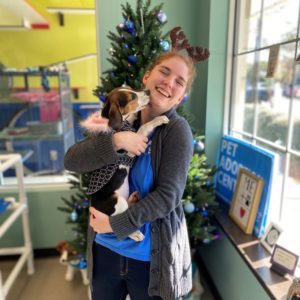 Palmetto Animal League invites the community to a Holiday Open House at their Adoption Center in Okatie. The event will take place Saturday, December 10 from 1 p.m. to 5 p.m. and guests are invited to drop by for cookies, hot cocoa, and coffee. It's a great time to spread holiday cheer to shelter pets.
"Homeless pets live comfortably at our no kill adoption center until they are adopted, no matter how long it takes," explains PAL President Amy Campanini. "They feel the holiday excitement all around, and they love when people come to PAL to spend time with them."
PAL is waiving adoption fees for cats, kittens, and adult dogs during the event as a part of their monthlong Season of Second Chances.
"If your home is missing the pitter patter of paws, this will be a great day to find your new best friend," says PAL Adoption Coordinator Sally Dawkins. "But we understand not everyone can adopt and that's OK! We hope everyone will drop by to make some holiday memories."
As a part of their mission, PAL will be collecting much needed items for their pet pantry, including cat and dog food, toys, treats, pet beds, and cozy blankets. They will make sure your gifts get to those animals who need them most this holiday season.