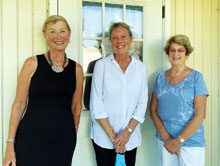 Lori Wells unlocks the door of a storage building off Parris Island Gateway.
"So it's really hot in here right now," she says, as she moves further in and turns on the lights.
Inside, along the walls and in every corner is medical equipment of every sort.
From walkers to crutches and orthopedic boots, to IV polls, bed pads and knee scooters – the supplies are stacked or placed anywhere they can go. In one corner, rows of wheelchairs sit empty, their footpads folded, as if waiting to be called into service.
Welcome to The Lending Room – where gently used, donated medical equipment is distributed to those in need.
An all-volunteer nonprofit, The Lending Room got its start in 1961 when Natalie Haskell, a member of Beaufort Memorial Hospital Women's Auxiliary, began working to help patients who needed home medical equipment get the items they needed.
As Wells explains, with only one drug store in Beaufort at the time, access to "durable medical equipment" as it's called was sometimes hard to come by. 
Today, the organization continues to play an important role in the community in bridging the gap between donors who may have wheelchairs or other items they no longer need or use to those who need them – whether it's an individual who cannot afford what can often be an expensive piece of equipment or somebody who's only looking for one-time use.
The organization often gets requests, for example, from residents who have undergone a hip or knee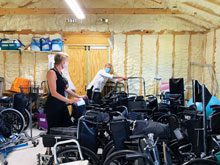 replacement, and may need a wheelchair, or walker or cane, for a short period of time while they recover, Wells said. 
"And quite often they bring (the equipment) back and it gets donated again," she said.
Those accepting the equipment are only required to pay $1 upon pick up, which covers the release of the item as it is.
Being able to furnish those in the community with what is essentially free medical equipment is critical for many who cannot afford to purchase new equipment or for whom medical care has already become an expensive proposition.
Case in point: a new hospital bed for home use can cost anywhere from $800 to $3,000, and a new wheelchair can run anywhere from $300 and up, said volunteer Nancy Merrill.
"It can be very expensive," she said.
And a new issue has occurred, albeit a good one.
After The Lending Room closed in March from the coronavirus, medical supplies began stacking up. The organization now has a surplus of equipment and volunteers are working to make sure the community knows it's all there.
"Trying to get the word out has been difficult," said Merrill. "People seem to the think we're closed."
But the organization is very much open. In fact, just last spring, The Lending Room moved into a new location behind LowCountry Habitat for Humanity, on Parris Island Gateway.
Habitat allowed them to build a new facility on their property, rent-free.
"It's through their generosity that we're here," Wells said.
Since re-opening in June, the organization is now having to do things a little differently, as has been the case with nonprofits everywhere.
Only volunteers are permitted in the storage building now, and masks are required when coming to the facility to pick up items or interact with staff.
What hasn't changed is that a team of about 20 volunteers do everything from organizing the equipment, to cleaning and spraying it down. 
And they also keep their ears to the ground or work to connect those in need with specific items they have on hand – something that can be a very rewarding experience, volunteers say. 
"Oh it's very gratifying," Merrill said. As she and Wells went on to explain, sometimes the timing of the matches can be uncanny.
A generous resident once called the organization with an unusual donation – a massive wheelchair ramp that was no longer needed. 
Unsure what they would do with it, longtime Lending Room volunteer Charlie Ledford was determined they would collect it first, and figure that out later. 
Ledford went and picked up the ramp in his own truck, Merrill said.
Later that same day, another resident called with an equally unusual request: Would they happen to know where someone could get a wheelchair ramp?
"It was like divine intervention," Merrill said.
But the women say, at The Lending Room that kind of serendipity happens more often than not.
"There will be a need and all of a sudden here it comes," Wells says.
And seeing the difference a piece of equipment or sought-after item has made in the lives of those in Beaufort has also be rewarding, they say.
"The gratitude – it's off the charts for what this is going to provide them," said Merrill.

Need a wheelchair or other medical item?
The Lending Room has a surplus of medical equipment at the moment including wheelchairs, bedside commodes or toilet chairs and walkers. If you or someone you know can benefit from these items, contact The Lending Room at (843) 524-2554. The facility has regular hours when they are open, but volunteers advise calling first to make sure they are there or accommodate requests. For more information, visit www.lendingroombeaufort.com.
Top: Nancy Merrill, volunteer, Lori Wells, secretary/ volunteer coordinator, and Carolyn Roos, treasurer