Make a date with your best gal pal to attend Beaufort Memorial Hospital's Girls' Night Out, a ladies-only event featuring games, prizes, music, wine, hors d'oeuvres and dessert! The only thing missing are the pajamas and pillows.
But this party has a purpose—educating women on ways they can improve their health from eating more nutritious foods to learning how to properly perform a breast self exam.
"Women are so busy taking care of their families, they often neglect their own health needs," said Karen Carroll, vice president of patient care services at Beaufort Memorial Hospital. "This event is designed to provide them with information that can help them make informed choices."
The party takes place Thursday, Oct. 20 in Building 12 of the Technical College of the Lowcountry,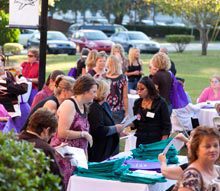 921 Ribaut Rd.
It is the second year BMH has hosted Girls' Night Out, one of the signature programs presented annually by Spirit of Women, an elite coalition of American hospitals and healthcare providers committed to women's health education and community outreach. Held during National Breast Cancer Awareness Month, the free event will focus on breast care as well as nutrition, wellness, and bone and joint health.
"We're taking the traditional health fair and turning it into a party to make it fun for women to learn ways to improve their well-being," said Courtney McDermott, who is helping coordinate the event for BMH. "We'll have music and food and lots of entertaining games designed to get women thinking about things they can do to feel better."
At the "What's in Your Bag" station, participants will be invited to weigh their purses. Physical and occupational therapists will be on hand to advise them on an appropriate weight to carry and the effects a heavy handbag can have on their neck, shoulders and back.
In the "Ta-Tas Toss", participants will be asked a series of true or false questions about breast health. They'll answer by throwing a small pink bean bag into a cornhole board marked with "myth" or "fact".
"We know the game is going to prompt concerns about breast cancer risks, treatment and surgery, so we'll have physicians and breast health specialists standing by to answer their questions," McDermott said.
Participants also will have the opportunity to schedule mammograms at the new Women's Imaging Center in Beaufort or at Bluffton Medical Services, the hospital's south-of-the-Broad outpatient center.
To help women develop better eating habits, hospital nutritionists will set up a grocery store aisle where participants can choose what they feel would be the healthiest foods. Their selection will be analyzed for the best nutritional content.
Among the other games planned for the evening is "Wheel of Bone & Joint Health" featuring categories of health-related questions. Prizes will be awarded to women who answer questions correctly. Everyone who plays will be entered in a drawing for several grand prizes, including a Kate Spade handbag, custom-designed jewelry and gift cards.
Hospital staff also will be performing balance screenings used to reveal issues that could be helped with exercise, strength training or physical therapy.
"This is the kind of information women need and want," McDermott said. "It's serious stuff—we're just presenting it in a fun format."
To become a member of Beaufort Memorial's Spirit of Women or to register for Spirit Girls Night Out, visit www.bmhsc.org/spiritofwomen or call (843) 522-5171. Membership is free and includes invitations to all Spirit of Women events, including Girls' Night Out and Day of Dance.