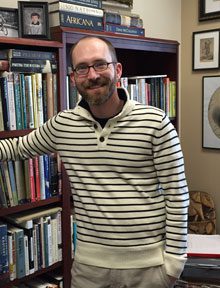 Two USCB faculty have been selected to receive the Breakthrough Star Award from the University of South Carolina for their considerable research contributions.
Each year approximately one dozen of Carolina's junior faculty are selected as Breakthrough Stars from all campuses and sites. Two of the limited one dozen went to outstanding USCB faculty.
Award recipients Brent Morris, Ph.D., Assistant Professor of History and Kasia Pawelek, Ph.D., Assistant Professor of Mathematics have exciting research interests and engage students in new research opportunities.
Dr. Morris received a B.A. degree magna cum laude in English Language and Literature, and History at the University of South Carolina in 2001. He earned an M.A. degree in History and his Ph.D. at Cornell University. Dr. Morris' research and academic interests involve Nineteenth United States History; South Carolina History; Slavery; Abolition and Antislavery; the Civil War and Reconstruction; and African-American History. In 2010, Dr. Morris won the South Carolina Historical Society Malcolm C. Clark Award, which is presented annually for the best article published in the South Carolina Historical Magazine.
Dr. Morris first book Oberlin, Hotbed of Abolitionism: College, Community, and the Fight for Freedom and Equality in Antebellum America was published in 2014, and was nominated for eight major awards including the Gilder Lehrman Frederick Douglass Prize for most outstanding non-fiction book in English on the subject of slavery or abolition. His next, Yes, Lord, I Know the Road: A Documentary History of African Americans in South Carolina 1526-2008 will be published later this year. He is also the director of the National Endowment for the Humanities institute America's Reconstruction: The Untold Story.
"I was truly honored to receive this award," said Dr. Morris. "To be recognized as one of the outstanding junior scholars in the entire USC system is one of the highest distinctions of my academic career. As an undergraduate at USC, I had the honor of studying with inspiring professors who would themselves go on to be recognized as Breakthrough Stars, and to now join them as a recipient of this award places me in the best company imaginable."
Dr. Pawelek received a B.A. degree and an M.A. degree, both in Mathematics, at Oakland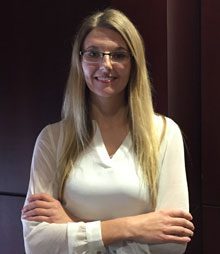 University in Rochester, Mic. She went on to earn a Ph.D. degree in Applied Mathematics with a concentration in Continuous Mathematics at Oakland University. Dr. Pawelek's main projects consist of modeling infectious diseases caused by Influenza and West Nile viruses. Her research focuses on providing a better understanding of complex processes of an infection and the use of control strategies. These projects led to invited research visits and collaborations with interdisciplinary groups nationwide and internationally. Since joining USCB in 2012, Dr. Pawelek received a number of research grants, including a recent SC INBRE grant from the National Institute of General Medical Sciences.While at USCB she has also given a number of invited presentations at premier national and international conferences and seminars.
Dr. Pawelek is adviser of the Mathematical Modeling Research Group, where she offers students opportunities to directly apply and broaden the knowledge from their mathematics, computational science and biology courses and make connections between them. Her undergraduate advisees received first prizes for poster presentations, several competitive scholarships and published their work in peer-reviewed journals.Dr. Pawelek is also a strong supporter of the under-represented groups in mathematics and science. She co-organizes events and conferences promoting research and STEM disciplines.
"I am deeply honored and humbled to have been selected for the USC Breakthrough Star Award." said Dr. Pawelek"My commitment at USCB is to inspire research, learning, teamwork, serve as a role model to my students, and provide them with support to reach their personal scholastic goals. I aim to utilize my research expertise for the betterment of my community and broaden the knowledge of the spread and control of the infectious diseases.
Discussing the signature research award program, Vice President for Research Prakash Nagarkatii notes, "Each year, the competition for these awards is incredibly strong, which is a credit to our institution as it demonstrates just how many talented faculty and student researchers and scholars fill the halls of the University of South Carolina. The few ultimately selected represent the very best of the best. These are the researchers making a positive impact, both in their fields of study and in the education of their students, and who we know will continue to make even more outstanding contributions throughout their careers. It is my great pleasure to congratulate the 2016 Breakthrough award recipients."
Since 2002, USCB has tripled its academic degree programs, doubled its FTE enrollment, opened its first on-campus housing (now serving more than 750), joined the NAIA Sun Conference, and fielded conference and national award-winning Sand Shark athletes in nine sports. The university's two campuses serve a diverse student body. The Hilton Head Gateway campus in Bluffton, SC, offers cutting-edge Computational Science and Nursing laboratories, and a broad range of academic degree programs. It is home to Sand Shark athletics. The Historic Beaufort campus, located on Beaufort's downtown waterfront, houses an innovative baccalaureate Studio Art program in close proximity to Beaufort's many art galleries. The University of South Carolina Beaufort offers students an exceptional place to learn and live in an environment focused on growth, preservation and opportunity.
For more information about the University of South Carolina Beaufort, contact Kerry Jarvis, public information coordinator at 843-208-8030 or jarviskc@uscb.edu.