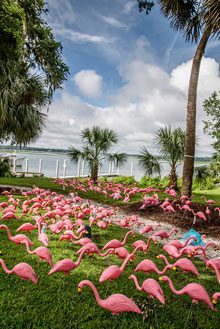 Laura Morgan didn't think twice about lugging more than 300 pink flamingos to Bluffton Oyster Factory Park on a recent balmy summer day. With the help of a couple volunteers, she planted the sturdy plastic birds along a pathway near the docks on the May River.
Morgan, founder of Pledge The Pink breast cancer awareness event, wasn't trying to break the Guiness World Record with this plastic flamingo flock. She and her volunteers broke that in 2016 with 1058 flamingos. On this day, Morgan was preparing a photo shoot to drum up excitement for her Pledge The Pink's FlockStars — the nickname of the 1,500 registrants from 48 states and 17 countries who will walk, run, push a stroller or dance the 10 miles each day in different locales in the Lowcountry this October.
The parade of pink flamingos have been dubbed the Flocks of Love. Each one represents a donated mammogram for a Lowcountry resident.
"Every penny of this money stays local — helping women in the Lowcountry," said Morgan.
The pink flamingos have become a beloved mascot — affectionately nicknamed Fancy — for the Pledge The Pink registrants, volunteers and super fans. Some of the flamingos have names written on them. Some of them are bedazzled with beads, sparkles, boas or funny, little outfits. All of them represent a loved one who has passed away from breast cancer or in honor of someone who continues to fight the battle.
Dayle Thomas of Smarty Pants Photography was on hand to snap shots of the pink flamingos along the iconic Bluffton backdrop. She is recruiting professional photographers who would like to volunteer their time and expertise during the event. Please contact her at 843-422-5984 if you are interested.
Pledge The Pink will take place from October 25-28 on Hilton Head Island, Fripp Island and Old Town Bluffton. For more information including a schedule of events, visit pledgethepink.com.
About Pledge The Pink
Pledge The Pink, originally LoCo Motion, started in 2011 as a small, local charity race aimed at fighting cancer in South Carolina. Today, the not-so-small breast cancer event has pushed thousands of women off the couch and given over a half million dollars to cancer treatment, research and prevention. The event occurs every fall in the Lowcountry. "We wear pink, give sweaty hugs, build blisters, sing songs, and most importantly: save lives."