The national event-planning firm makes its home on Charles Street
Have you been curious about the colorful new sign on Charles Street that announces Fandango Productions South? Wondering what it is that Fandango is all about? Well, Fandango, in one word, is a marvel. They are a company that is bringing extraordinary ideas to Beaufort and the Southeast.
Fandango Productions South is an event design, production, marketing and management firm that focuses on conference and staged productions, trade shows and exhibits, cause awareness, celebrations, festivals and gatherings and branding events. Hubbed in Baltimore, Maryland, Fandango Productions specializes in events for the education, corporate, non-profit, entertainment, government and private-sector arenas.
And, as the population in the South continues to grow, Fandango wants to capture an audience of clients from this emerging market. And they are starting in Beaufort. As we all know, Beaufort is adorned with many types. It's a hodgepodge of scholastics, political figures, authors, entertainers, military ranks, corporate professionals, etc. It seems every time you walk around the corner, you meet another interesting figure in the community.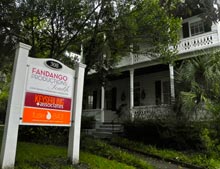 Well, Jodie Miller, Regional Director for the South, and Fripp Langford, Sales and Operations Director for the South, are beginning to seize this uncaptured market. Miller and Langford, both Beaufort natives, have a wealth of knowledge of the region and many years of experience designing events.
After graduating from college, Miller attended Baltimore International College for Culinary Arts to study menu design and wine pairings. Shortly after graduating, she and a partner opened Union Three Events, where she planned a wide variety of celebrations and also worked with Fandango Productions. Fandango approached Miller about working for them; she said she'd love to, but she was moving home to Beaufort to raise her two small children. After months of market research, Fandango concluded that a niche existed in the South that had not been discovered. So they hired Miller, who quickly called Langford.
Langford, who holds a B.A. from the University of South Carolina in Marketing and Business and a minor in Retail and Sales, is also very plugged in to the social scene in Beaufort. Miller pitched the position to Langford, and within two weeks, Langford trained in Baltimore and became part of Fandango's growing staff.
Miller and Langford are starting with social events and celebrations in Beaufort, Hilton Head, Charleston and Savannah. Within 18 months, their objective is to tackle the southeast corporate market, beginning with Charlotte and Atlanta.
The presence of a national firm in Beaufort is a valuable resource. Fandango's creative capability is immeasurable. They have access to a myriad of props, both purchased and built to clients' needs, capability to hand-paint dance floors to event-specific inspirations, and the manpower to install large-scale decor. Their warehouse is 53,000 square feet in size. Their staff includes a carpentry department, fabric designers, welding professionals, painters and centerpiece designers. They even have a graphic design team that creates scaled floor plans of the event.
Fandango has positioned
itself as a resource for local wedding and event planners. They have no desire to compete with established professionals in the area. To the contrary, Fandango wants to integrate its abundance of inventory and staff with the needs and desires of local planners, with no direct cost to their clients.
In fact, Fandango surprised 10 Charleston event professionals with hand painted benches, branded with each company's logo. The gifts were well received, and the gesture indicated partnership. Fandango wanted these planners to know, "If you can dream it, we can make it happen."
And that they have done. They have put a new spin on an old classic, recreating spaces with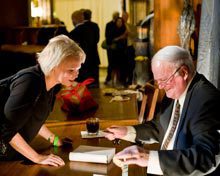 imaginative and innovative effort. For example, last year, the Enoch Pratt Free Library in Baltimore honored Pat Conroy with the 2010 Pratt Lifetime Literary Achievement Award. Fandango transformed the Library into a scaled version of Broad Street and Rainbow Row, to welcome the Author of the recently published South of Broad. Additionally, they constructed a building within the Library to resemble an old juke joint and called it Conrack's Backwater Bar. And, they nailed it! Conroy was moved by the significant renovation.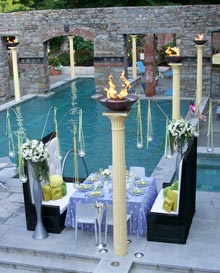 Fandango has already captured the attention of several non-profits. This year, Fandango will produce the 2012 Beaufort Memorial Hospital Valentine Ball, Historic Beaufort Foundation's Annual Oyster Roast and Lafayette Soiree and the Beaufort Film Society's International Film Festival. Noted as four of the most attended events in Beaufort, these gatherings are sure to impress this year with Fandango's influence.
From a business perspective, Andy Burris of Amazing Event Rentals anticipates a strong partnership with Fandango and realizes its benefit to the local economy.
"Amazing Event Rentals is excited about Fandango's willingness to invest in and open an office in
Beaufort SC. This investment is another confirmation of how special this area is and how the Lowcountry has become a nationally recognized wedding and special event destination. Beaufort and the surrounding areas are truly blessed to have some phenomenal caterers and event planners that will be able to utilize Fandango South; and with Jodie Miller's experience, resources and talents, together we can make every event AMAZING!"
Recently, I was invited to Fandango's initial event on Tybee Island, titled Cut the Ribbon, Cut the Cake, the grand opening of Tybee's signature wedding chapel that was showcased in Miley Cyrus' movie, The Last Song. David Tutera of WE-TV's My Fair Wedding hosted the event. It was phenomenal!
About Cut the Ribbon, Cut the Cake
Originally built by prized artisans to reflect the look of a turn-of-the-century Baptist chapel for The Last Song, a film featuring Miley Cyrus, the structure was slated for demolition after filming wrapped. At the last minute, the new owner Stacye Jarrell, saved the Chapel and lovingly repurposed it as a unique, beautiful wedding venue. The renewed Chapel has elevated Tybee Island to a premiere wedding destination where brides and grooms from across the country will come to take their vows.
Cut the Ribbon, Cut the Cake was the Grand Opening of the Chapel to the trade and to the public, held on August 11 and 12, 2011. Co-sponsored by Fandango Productions South and presented by Toren Anderson Media, Inc., the event showcased the talents and wares of the regional wedding industry stand outs in vignettes envisioned by the celebrity wedding planner.
Elite members of the special event trade designed vignette motifs conceptualized by David Tutera to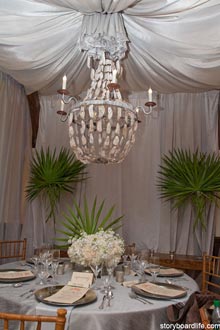 reflect the spirit of the Chapel. Ashley Rhodes of Ashley Rhodes Events designed a Lowcountry vignette and set a table fit for local distinguished authors. Sweetgrass Restaurant from Dataw Island catered and Nancy Dennis, local calligrapher, showcased her art. Lowcountry Originals donated the Chandelier, and EWW Floral Design provided the arrangements as well.
Additionally, Amazing Rentals provided the tent and Lowcountry Photo Booth supplied some old-fashioned fun with a variety of costumes to accompany the self-managed booth at the cocktail party that preceded the grand opening.
David Tutera called the Tybee Island Wedding Chapel, "a wonderful, important venue full of charm and character" and wants to bring people from all over the country to this beachside haven, known for its egalitarian society, rare ecological systems and fun-loving attitude.
Tutera's exceptional eye for perfection was pronounced at the event; yet, there wasn't a sign of pretension. He was charming and polite, comical and real. He did not portray celebrity status, but definitely exuded engaging professionalism.
My parent's 40th Wedding Anniversary was the following Saturday. I asked Tutera what I could do, if anything for a party that had been planned for months, to make the celebration forever memorable. His advice?
"Since you are the oldest, you should be the last to give your toast. At its conclusion, have your mother's favorite song played and ask the immediate family to join in to dance in a circle, symbolizing strength and unity. It's the people at an event that make it memorable, more than anything else. Remember that," explained Tutera. So I followed his advice and we all danced to Jackie Wilson's
"Higher and Higher."
What a humble response for a person who makes his living designing events. His message was great and has propelled him into the elite status of celebrity planners, because he designs not only from client inspiration, but also through the positive energy of the client's surroundings, including friends and family.
Tybee's hospitality was extraordinary, and I certainly wish the coastal wedding chapel the best of luck with future events. Fandango helped the chapel start off with a bang, indeed!
Congratulations to Fandango Productions South for introducing your talent and class to the Southern Coast. You are a welcomed addition to Beaufort, and we wish you much success!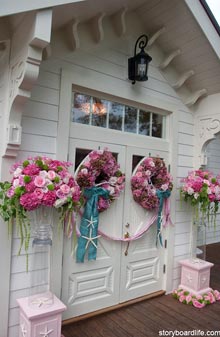 Upcoming events produced by Fandango Productions South:
Historic Beaufort Foundation's Annual Oyster Roast, January 13, 2012 at Marshlands
Beaufort International Film Festival, February 15-19, 2012 at various locations
Beaufort Memorial Hospital Valentine Ball, February 11, 2012 at Parris Island Lyceum
Historic Beaufort Foundation's Lafayette Soiree, April 28, 2012 at Tidewater