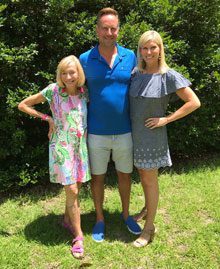 What fun it is to have friends from out of town come to our house for lunch! A big meal in the middle of the day is almost decadent. I recommend it highly. When California friends Holley and Cam Miller come to Beaufort to visit Holley's parents, they always take me out to eat. This visit, I treated them to lunch, with notice that they'd be helping me test recipes for my LCW column.
What do you serve to foodies from California? The Millers can get just about any type of fresh produce year 'round. Holley is a fabulous cook and also writes a food blog. What to serve, what to serve? I love a challenge! Holley has ties to Alabama and is a southern girl at heart, so southern fare was the obvious choice. You can't come to the Lowcountry in the summer and not feast on shrimp, tomatoes and blueberries at least once. Pecans, pimento cheese and pickled okra ARE southern staples and had to be included somehow. The menu just fell into place.
            Holley, Cam and Holley's mom Janelle Proctor joined me for a summer luncheon at high noon on Monday. While catching up with each other at the table, we dined on some of my favorite oldies as well as some new culinary creations. I'm a purest when it comes to pimento cheese. The true recipe consists of sharp cheddar cheese, pimentos and just a touch of mayonnaise to bind it together. The addition of cayenne pepper in this week's recipe gives the dish an added kick, which is kind of fun when serving pimento cheese as an appetizer. Neil and Becky Trask had given me some beautiful tomatoes over the weekend. I was torn whether to serve a crab pie or a tomato pie so I added fresh tomatoes to my favorite crab pie receipt. You can't beat the tomatoes grown in Beaufort soil. Blueberries are also abundant right now and are great in a simple salad with fresh greens. This quick and easy vinaigrette is so much better than anything you can buy in the grocery store and worth the 3 minutes it takes to prepare. Not a raspberry fan? Try strawberry or cherry jam instead. The delightful shrimp and pickled okra salad was the surprise hit of the meal. I'd seen a couple of variations of the recipe over the past few years and the combination of shrimp and pickled okra sounded so intriguing that I made a tweak or two and came up with my own version. I think more okra is better, so if you want to add the whole jar, it would only enhance the dish. The pecan pie muffins are a favorite from my cookbook, Celebrate Everything! Do be sure to follow the directions and grease and flour the muffin tins. I used the cooking spray with flour and it wasn't enough. Some of the muffins got broken and I was "forced" to eat the pieces before my guests arrived. They're so good warm or at room temperature. Food brings people together and few things are more fun than sharing a meal with friends and family, especially friends who have become family. Happy cooking!
Spicy Pimento Cheese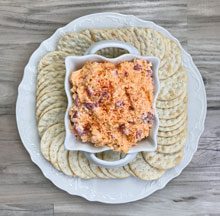 2 cups (8 ounces) shredded extra-sharp cheddar cheese
1/3 to ½ cup mayonnaise, just enough to blend mixture smoothly
2 tablespoons diced pimentos, drained
Cayenne pepper, to taste
Water crackers
Mix cheese with mayonnaise in a medium bowl. Stir in diced pimentos. Season with cayenne pepper. Turn mixture into a small serving dish. Cover and chill for at least 2 hours. Garnish with additional cayenne pepper and serve with water crackers. Serves 6 to 8.
Crab and Tomato Pie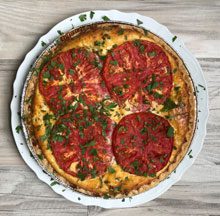 Seasoning blend is available in the frozen food section of your local grocery store. It contains onions, celery, green peppers, red peppers and parsley. It's one of my favorite shortcuts.
2 (9-inch) deep dish frozen pie crusts
4 eggs
2 tablespoons flour
1 cup mayonnaise
1 cup whole milk
1 (5-ounce) package shredded swiss cheese
1 (8-ounce) package shredded sharp cheddar cheese
2 teaspoons Old Bay seasoning
1/3 bag frozen seasoning blend, thawed and drained (about ¼ heaping cup)
Dry sherry
1 pound lump crab meat
2 medium tomatoes, sliced
Chopped fresh chives or Italian parsley
Thaw pie crusts in refrigerator. Par-bake thawed crusts according to package directions. In a large mixing bowl, combine eggs with flour, mayonnaise, milk, cheeses, Old Bay seasoning, seasoning blend and sherry. Mix well to combine. Gently fold in crab meat. Pour into par-baked pie shells. Top with tomato slices. Sprinkle with additional Old Bay seasoning. Bake in a preheated 350 degree oven for 45 to 55 minutes or until centers are set. Let rest on wire baking racks for 8 to10 minutes. Garnish with chopped chives or Italian parsley before serving. Serves 12.
Raspberry Vinaigrette
1 tablespoon raspberry jam
2 tablespoons red wine vinegar
¼ cup vegetable oil
Salt and pepper to taste
Combine all ingredients in a small bowl and whisk until well combined. Cover and chill until ready to serve. Toss with fresh salad greens. Serves 4 to 6.
Shrimp and Pickled Okra Salad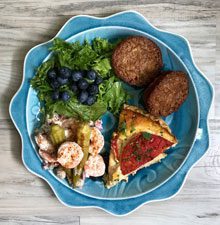 1½ pounds shrimp, peeled and deveined
½ to ¾ cup sliced hot pickled okra
¼ cup mayonnaise
1/3 cup diced pimentos, drained
3 tablespoons diced red onion
2 to 3 tablespoons lime juice
Dash Old Bay seasoning
Salt and pepper, to taste
Bring a large pot of water to a boil; add shrimp and cook until just pink. Drain and cool for 15 minutes. Place cooled shrimp in a large bowl. Add sliced okra, mayonnaise, pimentos, red onion and lime juice; mix gently to combine. Season, to taste, with Old Bay seasoning and salt and pepper. Cover and chill for at least 2 hours. Garnish individual servings with whole pickled okra and Old Bay seasoning. Serves 4.
Pecan Pie Muffins
These yummy muffins are delicious when served warm or at room temperature. Be sure to grease and flour your muffin pan. The muffins are slightly sticky – just like pecan pie!
1 cup chopped pecans
1 cup firmly packed brown sugar
½ cup all-purpose flour
2 large eggs
½ cup butter, melted
Combine chopped pecans, brown sugar and flour in a large bowl. In a smaller bowl, beat eggs until foamy. Stir together eggs and butter; add to dry ingredients, stirring just until moistened. Grease and flour a muffin pan. Spoon batter into cups, filling two-thirds full. Bake in a preheated 350 degree oven for 20 to 25 minutes or until done. Remove from pan immediately and cool on wire racks. Serves 9.
The writer owns Catering by Debbi Covington and is the author of three cookbooks, Celebrate Beaufort, Celebrate Everything! and Dining Under the Carolina Moon. Debbi's website address is www.cateringbydebbicovington.com. She may be reached at 525-0350 or by email at dbc@cateringbydebbicovington.com.