The Hilton Head Island Concours d'Elegance & Motoring Festival, one of the nation's signature automobile events, will include major international names in collecting and racing when the event returns to Honey Horn on Hilton Head Island, S.C. from Oct. 30 – Nov. 2.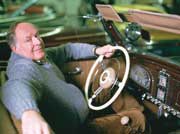 Named as the premier event's esteemed honorary chairman, Nicola Bulgari of the BVLGARI jewelry dynasty, will be on hand Saturday to discuss his extensive and varied collection of early American automobiles. Already an annual exhibitor, Mr. Bulgari will showcase five examples indicative of his eclectic taste and eye for design as part of the Quest for Speed and Style exhibition this year. This noted international collector bought his first car, a 1937 Buick Model 48, for $30 in 1959. Of the 170 vintage restorations and unique originals in his collection, almost half are Buicks.
Also, Historic Grand Prix Formula 1 Racecar Drivers such as Rick Carlino, Hamish Somerville, Paul Flowers, Lee Brahin and Michael Fitzgerald will be appearing at the exhibitions at the newly-reopened Hutchison Island track. Visitors to this year's Hilton Head Concours event also will have an opportunity to see some of the most impressive cars from Grand Prix history in action. The Historic Grand Prix drivers will race some of the most famous Formula 1 cars from the 1970s and 1980s including Somerville's 1978 Williams FW07 and FW04, Flowers' 1981 Tyrrell 011, Brahin's 1975 Hesketh 308 and Fitzgerald's 1983 Williams FW08.
"We are honored that Mr. Bulgari and the Historic Grand Prix drivers have accepted our invitation to attend what is quickly becoming one of the top Concours events in the country," said Carolyn Vanagel, executive director of the Hilton Head Island Concours d'Elegance & Motoring Festival. "Their participation in the 2008 event will surely thrill the loyal automobile lovers in the region."
Mr. Bulgari's curator and restorer, Keith Flickinger of Precision Motor Cars in Allentown, Penn., said that he chose vehicles that are representative of Bulgari's interest in engineering advances in automotive history.
"Mr. Bulgari likes to drive these cars," said Flickinger, who will be on hand at the 2008 Hilton Head Island Concours to answer questions about the vehicles in this esteemed vintage automobile collection. "They're not just artwork to him."
This year, the renowned Bulgari collection will showcase the following automobiles:
1950 Chrysler Town and Country: Completely original with only 4000 miles on the odometer, this sedan was never licensed or titled because it was driven by the dealer that purchased it. Nicola Bulgari preserved this important vehicle because it was the last year that real wood was used on the body of a car.
1941 Nash Ambassador 8 Sedan: The restoration of this vehicle was many times over the monetary value of the car, but Mr. Bulgari wanted to preserve for posterity how American automakers delivered sophisticated design to a mass audience at an affordable price. Although designed for the everyman, with a special fold-down seat so that hunters could camp out in the back, the design did not lack for stylish details from its highly attenuated lines to its chrome jewelry and Saturnian steering wheel, with a transparent plastic horn ring.
1935 Packard V-12 Coupe: The ultimate status symbol vehicle, this completely original coupe was the first car that Ann Klein, daughter of the New Holland farm equipment founders, learned to drive at age 18.
1936 Hudson Custom Eight (8) Convertible: A prime example of art deco style, this meticulously restored vehicle was ahead of its time with a center-mounted radio and gauges on its curvy dashboard.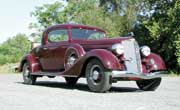 1935 Buick 96 S Sport Coupe: Of the 41 built, only this one survived. This vehicle is the most precious gem in Mr. Bulgari's internationally recognized Buick collection, the one he had been looking for and dreaming of since he was 9 years-old. It was the first year for Buick to feature independent front suspension.
The addition of Grand Prix Formula 1 drivers to the 2008 Hilton Head Island Concours event will serve as another unforgettable highlight for attendees. Historic Grand Prix co-founder Rebecca Hale said the 100th anniversary of the Great Savannah Races as well as the beauty of the Hutchison Island track – with its vistas of Savannah's downtown and the Savannah River – attracted the drivers to the event this year.
" To be a part of that history is such an honor and a responsibility that we carry with us," she said. "Also the Savannah and Hilton Head area is such a lure that we wanted to support this local event."
BMW will return as the Official Automotive Sponsor of the 2008 Hilton Head Concours d'Elegance & Motoring Festival. Other official sponsors include Hargray as the Official Communications Sponsor, Beaufort Memorial Hospital as the official healthcare sponsor, JCB as the official construction company, Monthly Media Group as the official magazine, Adventure Radio as the Official Radio Station and Celebration Events as the Official Special Events Planning and Catering Company. Additional sponsors will be announced in the coming months.
Gate ticket prices are $15 for Thursday or Friday's vintage track event, the Hilton Head/Savannah Historics, $25 for Saturday, $35 for Sunday, $50 for a two-day (Saturday & Sunday) pass and $55 for an all-access (Thursday – Sunday) pass. Children under 12 get in free, ages 12-18 are $5 per day (with student ID) and military (with an active duty I.D.) receive half-off general admission ticket prices at the gate. Advance discounted tickets are currently available at www.hhiconcours.com.
For more information, please call (843) 785-SHOW (7469) or visit the official Hilton Head Island Concours d'Elegance & Motoring Festival website at www.hhiconcours.com.