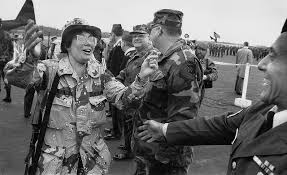 "The fifth week of training—"Hell Week"—is the toughest. I arrived at the end of that week and had the pleasure of telling the sailors that it was over and they had survived to continue their training. These aspiring SEALs were a mess: having gone days without food or sleep, they were hollow-eyed, freezing, and barely able to stand. Formed up on the beach, they were covered head to toe in sand, unshaven, a little drool here and there, snot running out of their noses.
I was proud to shake every filthy hand. These young men, like the Ranger trainees and so many others in uniform, are the best our country can produce. Being able to thank them personally was, for me, one of the greatest honors of being secretary of defense." Duty by Robert Gates (Vintage Books, 2014)
Each year on November 11 we celebrate the immeasurable contributions of those who have served in our military. As a national holiday, Veterans Day dates back to 1938 when America was neck deep in the Great Depression. As bad as life had become, it was about to take a turn for the worse as WWII lurked only a year away. We were a great nation then but woefully unprepared for the towering challenges that lay right around the corner.Thanks in part to some brilliant writers, the horrors of war and the steely, sweaty, stunning dedication of our veterans are cast in stone. Like last year, this column heralds some of the finest military books available. Bob Gates' Duty is one. Here are a few more of my favorites.
13 Soldiers by John McCain (Simon & Schuster, 2014)
Senator McCain, assisted by Mark Salter, serves up penetrating insights into the lives of thirteen Americans, from famous to relatively unknown, covering each war that has ensnared us, from the Revolutionary War to Iraq. Each of the thirteen chapters provides unique insight into an extraordinary personal saga enmeshed in a latticework of teamwork, technology and terror. Each reads like a short story, clean and powerful in its own right, yet illustrating the threads of American greatness spanning the Pennsylvania rifle to the Springfield to the M1 Garand to the M16 and beyond. One can rest assured that if a solider was tough enough and special enough for John McCain, he or she will appeal timelessly to us all. And yes, several women are featured, including Sergeant Mary Rhoads (Persian Gulf War) and combat medic specialist Monica Lin Brown (Afghanistan). This book lends itself especially well to reading it in short bursts. Like thirteen.
The Attack on the Liberty: The Untold Story of Israel's Deadly 1967 Assault on a U.S. Spy Ship by James Scott (Simon & Schuster, 2010)
This marvelously researched and written book simultaneously enthralls and horrifies. The timeline reveals that between the first general distress call that went out from the terribly damaged U.S. spy ship Liberty, effectively unarmed and sailing legally in international waters, and a Navy medical team arriving there was an unforgivable 17 hours. This occurred in relatively modern times–1967–in essentially perfect June weather and therefore represents unforgivably poor performance. If the Liberty's distress call after being repeatedly strafed and then torpedoed by the Israelis was the equivalent of a 911 call, there are no excuses for the delays and interminable PR and political fog in getting the pubic properly informed and Israel upbraided.

I finished Liberty with a lump in my throat and a brick in my stomach. I was hoping for a better settlement for the heroic Liberty crew and their families, and/or a clear admission of guilt and criminal wrongdoing from Israel, perhaps simply a reasonably complete fessing up by our government. We can all be very grateful that Mr. Scott had the wherewithal to chase down all the details and compile such a compelling and beautifully written account.
Sailors to the End: The Deadly Fire on the USS Forrestal and the Heroes Who Fought It by Gregory A. Freeman (William Morrow, 2004)
Superbly researched and told, this story is a gory reminder of the crucial nature of safety training and procedures. It is also a glowing reflection of the stellar quality of our naval personnel over the years. In July, 1967, after questionable safety protocol combined with freak electrical conditions and the acquisition of disastrously unstable, ancient WWII-era ordinance on a parked aircraft, a horrendous fire broke out. Containing the inferno and tending to scores of critically injured sailors brought out the best in a great crew. This is ultimately their story of valor but one with broad implications for any organization dealing with potentially deadly materials under stressful conditions.
The Forgotten 500: The Untold Story of the Men Who Risked All for the Greatest Rescue Mission of World War II by Gregory A. Freeman (NAL, 2007)
This extraordinary history of the plight of hundreds of Allied airmen trapped in Yugoslavia in WWII after being shot down by the Germans shines a bright light on the great collaboration between air crews, the OSS and Serbian civilians who risked their lives in helping our men. The author writes lucidly and spared little in the way of background research. Freeman is a fine storyteller, an invaluable asset for a historian. Especially today, it is reassuring to read about a massive rescue mission that was hugely successful despite the major risks and inherent complexity.

The Story of World War II by Donald L. Miller (Simon & Schuster, 2002)
I know of few if any more thoroughly researched or finely written overviews of the war to end—one prays—all wars than this tome by Mr. Miller. Have the stress meds ready, though, along with maybe a couple of stiff drinks, for your very soul is likely to twist like a chunk of a torn fighter wing.   You will emerge stronger, however, wiser and more appreciative than ever of The Greatest Generation. I struggled with a representative quote like an eager kid in a computer store. Here's 23-year old nurse Norma Crotty, who flew to Iwo Jima from Guam: "With the help of the doctors we picked out the worst cases and took them to the plane. The worst thing you would see were burns, and men who were torn up by the shrapnel. We had some men who were flamethrowers and their tanks had blown up, and it was horrible—the pain, the terrible pain. On the four- to five-hour trip back, we worked with corpsmen—there were no doctors—to stabilize the men and monitor their condition, checking for bleeding, giving them plasma, and feeding them sliced peaches in little paper cups, which we would sit on their chests. It was like they were swallowing little goldfish."Multiply this story a thousand times or more and you get a sense of Miller's extraordinary book.

Masters of the Air by Donald L. Miller (Simon & Schuster, 2006)
When Pulitzer Prize winner David McCullough calls this book "a stunning achievement" you know you are in good hands. Miller dives up to his eyeballs into the heroics of the mighty U.S. Eighth Air Force, taking you deep into Nazi Germany on breathtaking bombing raids on cities laced with munitions plants, railroads and other key strategic targets. Often treated like quasi-royalty by their host nation, England, our fliers and their crews were subject to some of the most brutal combat conditions imaginable. Their stories jump off the page at the reader and yes, refill that drink. Maybe grab some Kleenex while you're at it.
With The Old Breed by Eugene B. Sledge (Presidio Press, 1981)
I conclude here with perhaps the finest first person WWII account ever provided. "Sledgehammer," as he was called, was a skinny, sensitive, small town Alabama kid with a huge brain and more luck in evading serious injury or capture than any 50 of his buddies combined. His poetic eye for detail and profound sense of duty make for an unbeatable story of courage and terror in the South Pacific. If you never really understood what it means to be a U.S. Marine, this book will help. It will leave you a bigger person with enough gratitude to our tremendous military to last a lifetime.
These are just some of my favorites. I hope you find them rewarding on this very special holiday.