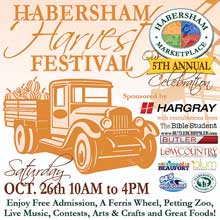 Saturday Oct. 26th 2013 join us for the 5th Annual Habersham Harvest Festival in the Habersham Marketplace, starting at 10am. Enjoy free admission, and fun for all ages at this homegrown family festival!
The Habersham Harvest Festival kicks off with our famous Pet Parade at 10 am in front of the main stage. Get your photo taken with your pet at the 'Pets & People' photo booth for free!
The parade is followed by the ever popular Pickle Eating Contest, with the Marine Corps band taking the stage after at 12 noon.
This year the festival will feature a vintage Ferris Wheel, hayride, live horse carousel, and classic all American petting zoo, along with a slew of other vendors, entertainment, and delicious food!
Stroll though a time-honored backdrop of shops and restaurants in the Marketplace, while enjoying festival food, crafts, entertainment, rides and activities along the way.
Parking is convenient, and just a short walk down the street from the Habersham Marketplace.
Fair food not your thing? They've got you covered! Head over to one of our local Habersham Marketplace restaurants: Bertos Tex-Mex, Maggie's Pub & Eatery, or Piace Pizza to grab a meal or a cold one! Cool off at Sunset Slush and create your own flavor combo.
The Habersham Harvest Festival has live music and more! See a radio station studio up close, and experience a live broadcast at the Harvest Festival by 94.5 The Coast!
The festival is sponsored by Hargray, and is organized by Plum Productions.
Here's a list of more of more fun activities you can expect to find at this year's Habersham Harvest Festival:
Pet Parade (main stage) 10 – 10:45am, Pickle-Eating Contest (main stage) 11 – 11:30am, Marine Corps Band (main stage) 12 – 1 pm, Cluster Shucks (main stage) 2 – 4 pm, Youth Symphony Chamber Group (stage B) 10:30am, Tux the Clown (stage B) – 11:30 – 12:30pm, Family slide dancers (stage B) – 1:30 – 2:15pm
Plus the: Savannah Mini Pigs, Ferris Wheel, Water Buffalo Bingo, Petting Zoo, Live Horse Carousel, Pets & People Photo Booth, Face Painting, Kid Koral, Mayoral Dunking Booth, Salsa Competition – 1:00pm, Ski ball, Tomato toss, and even a Hay Ride!
It's just a short ride from Downtown Beaufort, Bluffton, and Hilton Head; get directions and more info at: www.HabershamHarvestFestival.com