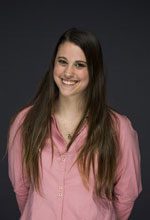 The THRIVE Lowcountry Women's Conference has announced Ashley Caruso, a University of South Carolina Beaufort Business Administration major, as the first THRIVE Fellowship recipient.
A senior at USCB, Ashley is pursuing a Bachelor of Science in Business with concentrations in both Marketing and Accounting. At USCB, she has consistently ranked at the top of her class and been recognized as a President's List Scholar, elected to membership in the Gamma Beta Phi Honors Society, and awarded the William Mason Hardimon Scholarship. This past summer, Ms. Caruso completed an internship at Gulfstream Aerospace Corporation at its Savannah headquarters location, as a Corporate Accounting Intern.
Ashley shared her goal for the conference, "At the Thrive Conference, I hope to learn from the personal achievements and the challenges each participant has faced on her journey. These stories and advice will give me the insights needed to design my own career path more effectively."
The Thrive Fellowship was created to provide financial support for an outstanding female junior or senior level Business Administration major at the University of South Carolina Beaufort. The fellowship offers the recipient an opportunity to gain professional insight from entrepreneurial women in business through participation in the Thrive Conference. The goal of the fellowship it to enhance the career development of the Fellowship recipient through exposure to a variety of industries, skills sets, and operational settings. "SCORE is pleased to support this Fellowship and acknowledges the key role of the Thrive title sponsor, BlueCross BlueShield of South Carolina," says Gordon Magee, South Carolina's SCORE District Director. "SCORE views supporting women in business with information, education, networking, and resources as a significant accelerator of new business development in the Lowcountry. Women are starting new businesses at an increasing rate," observed Rod Casavant, Chairman, SCORE SC Lowcountry.
About THRIVE Conference 2018
Thrive 2018 takes place at the Sonesta Resort on Hilton Head Island. A welcome reception is scheduled for Wednesday, September. 5, 2018 from 5:30 to 8:00 p.m., and will include entertainment, heavy hors-d'oeuvres, drink ticket, vendor tables, and a speaker panel featuring local business owners. The conference will be held on Thursday, September 6, 2018, from 8 a.m. to 4:30 p.m. The event is experiencing strong registrations to date based on the program and may sell out with 200 participants. Registration for the event is $129. There are also special rates offered for military-affiliated participants and large groups. Vendor tables with an on-site sales opportunity are also available. Registration and more information can be found online at www.hiltonheadchamber.org/thrive-2018/.