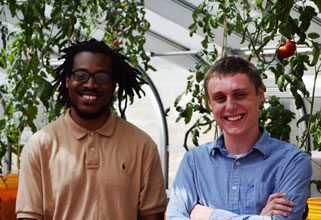 USCB students are making a difference with a student-led greenhouse project.
Two good friends on campus, Bailey Schorr, Psychology '17 and Jaylan Tucker, Health Promotion '17, saw an empty greenhouse and recognized a chance to make an impact on the student body and the local community. The USCB greenhouse was not in current use, but these two students knew it had potential.
In the fall of 2015, Schorr and Tucker approached health promotion professor Lauren Gellar, Ph.D. MCHES, and she secured permission for the two to work in the greenhouse.
As Schorr states, "We had no idea the path we were walking down." Many hours were spent cleaning and repairing things with the help of USCB maintenance staff. By the fall of 2016, the students were ready to attempt growing, and funds were needed. Mr. Paul Brody, a specialist from the local community in hydroponics, provided blueprints and expert advice free of charge.
In addition, the students received a donation from the USC Pastides Health and Sustainability Fund from the University of South Carolina. USC President Harris Pastides and his wife Patricia Moore-Pastides have a particular interest in healthy living, and this fund is supported by royalties from Mrs. Moore-Pastides' healthy cookbooks. The students also received support from student life and Mr. Norman Varnes from the Environmental Club.
The first crop of lettuce was a success! They grew 54 delicious heads of butterhead lettuce using the Kratky Method on the first attempt. They are currently growing tomatoes, zucchini, and cucumbers using the Dutch Bucket Method.
Recently the students began working with the Jasper County Boys and Girls Club. They are planning to teach them about hydroponics and help them build their own system. Also, the produce grown in the USCB greenhouse will be donated to them and integrated into a cooking class to help raise awareness about healthy cooking and, in particular, the health benefits of eating vegetables.
"Jaylan Tucker and Bailey Schorr are student leaders who have shown two years of passion, commitment and perseverance. They have overcome multiple obstacles along the way to see the USCB Greenhouse Project to fruition," said Lauren Gellar, Ph.D., MCHES program director for the bachelor of science in health promotion. "They have a strong vision to enhance community engagement with local underserved populations."
Patricia Moore-Pastides gave a talk on the USCB campus last Thursday, April 13, on garden-to-table gardening and healthy cooking. The talk was followed by a presentation from Schorr and Tucker on the USCB Greenhouse Project.