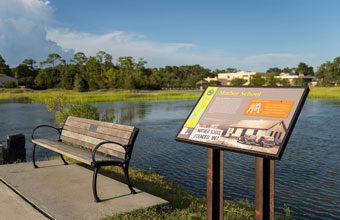 The Friends of the Spanish Moss Trail (FSMT) will celebrate the unveiling of seven new additions to the historic markers along the Spanish Moss Trail on Thursday, October 25 at 5:30 p.m. The community-wide event, postponed from last month by the approach of Hurricane Florence, will be a one-time opportunity to view the new panels in the historic Depot Building prior to their permanent installment along the Trail.
In addition to the display, the FSMT-led Historic Sign Committee, the historians and community leaders who researched these points of interest, will be available at each panel to share more about these points of interest such as – the Battle of Port Royal, Clarendon Plantation, Industrial Beaufort, Port Royal Agricultural and Industrial School, Pick Pocket Plantation and the Marine Corps Air Station Beaufort.
            "One of our committee members, Dr. Larry Rowland, said to me when we first started our research, 'Frank, when you kick the ground in Beaufort County you are going to kick up history.' And Larry is so right," said Frank Emminger, FSMT Board Member and Chair of the Historic Sign Committee. "We have literally been kicking the ground and have uncovered events in Beaufort County's history that have been lost or forgotten and some that never received proper recognition."
            For more information on the work of the FSMT and easy navigation to the Trail, you can download the free Mobile App, The Spanish Moss Trail Mobile Guide (available on Apple Store and Google Play).