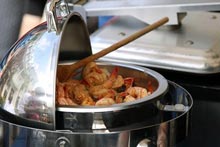 The First Annual Bridges Block Party was a smashing success! A good time was had by all, money was raised for Bridges Charter School, and a group of high school students from Goose Creek, SC, swept the Shrimp & Grits competition. That's right, Stratford High School won both the official judges' award AND the People's Choice Award for their Classic Charleston Breakfast Shrimp. (See recipe below.)
In September 2003, Chef Carl Calvert joined the faculty of the Stratford High School as a full-time Culinary Arts instructor. Chef Calvert's credentials include two Associates' degrees from Johnson & Wales University: one in Culinary Arts and another in Baking and Pastry. He subsequently earned a Bachelor's of Science degree in Food Service Management as well as Food Service Education from Johnson & Wales University and earned a Master's degree in Education and Master of Science in Management from Southern Wesleyan University. His experience in food service operations includes culinary positions in industry and education. Chef Calvert served on the faculty of Johnson & Wales at its Providence, Rhode Island and Charleston, South Carolina campuses for over fifteen years. While teaching culinary arts to high school students, Chef Calvert joined the faculty at The Culinary Institute of Charleston as an adjunct Instructor of Baking and Pastry, where he has been for the past eight years. Chef Calvert's students often compete in various state and local culinary competitions where they have proven quite successful.
Classic Charleston Breakfast Shrimp – Sauce
Ingredients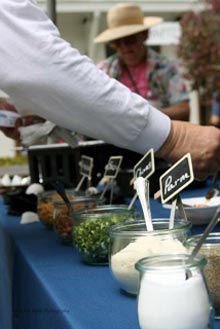 • 1 pound unpeeled medium-size fresh shrimp
• 1/4 cup lemon juice
• 1/4 teaspoon salt
• 1/8 teaspoon ground black pepper
• Splash of tobasco
• 1 cup finely chopped onion
• 1/2 cup finely chopped red, green, orange, and yellow pepper
• 3 tablespoon melted bacon drippings
• 1/4 cup chopped cooked bacon
• 1/4 cup minced mushrooms
• Tablespoon of sundried tomatoes – diced finely
• 2 tablespoons all-purpose flour
• 3/4 cup chicken stock (homemade if possible)
• Garnish
o Chopped parsley and scallions
MOP
1. Peel and devein shrimp and combine lemon juice, salt, and black pepper.
2. Cook onion and peppers in bacon drippings on medium-high heat. Add mushrooms and bacon. Lightly sauté.
3. Sprinkle flour over sautéed vegetables; cook, stirring constantly for about 2 min. or until flour is beginning to turn brown.
4. Add chicken stock, Tobasco, and lemon juice stirring constantly, for 2 or 3 minutes and gravy is smooth.
5. Add shrimp and sundried tomatoes. Cook until pink. Do not overcook.
6. Add water or stock if gravy is too thick.
Shrimp seasonings:
• Old bay
• Granulated garlic
• Weber Bold Chipotle
*Season a day before
Creamy Cheesy Grits
• 1 pint heavy cream
• 1 pint whole milk
• 3/4 cup yellow grits
• 1/4 cup white grits
• 1/3 cup cream cheese
• 1 tablespoon parmesan cheese
• 1/2 cup Three Alarm Colby Jack Cheese (From Great Midwest)
• 1/4 cup sundried tomatoes
• Salt, garlic and pepper to taste
MOP
Medium saucepan – bring cream and milk to simmer over moderately low heat.
Whisk in grits, sundried tomatoes, and cook, stirring often, for 25 minutes or until done.
Stir in cheese and season with salt and pepper.
Top with shrimp.