In celebration of The Beaufort Garden Club's "75th Anniversary" (1934 ~ 2009), its members dressed in "vintage" attire for this year's Grand Parade at the Water Festival.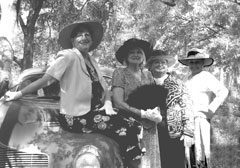 They hoped to heighten awareness of the club's seventy-five years of continuous commitment to the natural beautification of historic Beaufort. Educating and enlightening the general public in the joy of horticulture, necessity for conservation, and appreciation and preservation of our beautiful riverscape environment have been core club objectives.
To achieve these goals throughout the decades, the membership of this club has dedicated itself to various annual projects: Flower fairs, Camellia shows, spring and fall house and garden tour events, flower and tree plantings, establishment of small community parks, sponsorship of students attending Camp Wildwood conservation camp, and the ever-popular "Garden-a-Day" week. All are community-oriented activities. Great pride is taken in the club's seventy-five-year legacy, as a strong public presence and positive influence in our Beaufort community ever since its founding in 1934.