Preview upcoming workshops & classes at ARTworks~ free!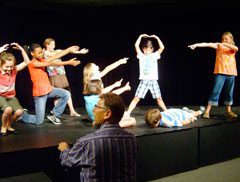 ARTsplash is a free preview of the workshops and classes, as well as the afterschool program, that will be offered this fall at ARTworks. Held on August 14th from 6:30 to 9pm, ARTsplash is designed for people who, for example, are not quite sure about a particular artform (pastels, maybe), or for people who've never toured ARTworks (hint: once you're in the front doors, keep walking, it's a looooong building), or for people who've never talked to a real live artist (no, they won't accidently smear paint on you- usually), or for people who aren't really comfortable with paying for a class before sniffing the cork, or for all the regulars who just want to say hi— and ARTsplash is also for the kids who perhaps need to be coaxed into a new art experience ("hey look at all those colors you'll get to play with!")
…Or maybe the youngsters are so ready for art that they just don't want to wait for ARTworks AFTERschool to begin on August 24th. These classes are for kids 6-16, one day a week, $45 per seven week session. Family discounts are available, as are limited scholarships. To register, Contact 843-379-2787 and www.beaufortcountyarts.com, or stop in at ARTworks in Beaufort Town Center, 2127 Boundary Street in Beaufort.
ARTworks AFTERschool
Tuesdays beginning August 25th
Performing Arts ~ Choral Music
Marlena Smalls, Instructor ~ Ages 8 – 14
Students get a special opportunity to learning choral singing and songs from world-renowned performer, Marlena Smalls, founder of the Hallelujah Singers.
Performing Arts ~ Puppetry
Yostie Ashley, Instructor ~ Ages 6 – 8
Explore puppet-making and puppetry. Create your own puppets and learn to use them to tell stories by building characters.
Creative Writing ~ Fantastic-ekfrastic Story-writing
Lisa Rentz, Instructor ~ Ages 9 – 14
Students will experience the creative writing process: finding helpful inspiration (that's the 'ekfrastic' part); brainstorming; creating adventurous & thoughtful characters; carrying a story through beginning, middle, & memorable conclusion; editing; and read-out-loud sharing & critiquing.
Wednesdays beginning August 26th
Visual Arts ~ Hooked on Recycling
C.J. Norwood, Instructor ~ Ages 6 – 8
Students will be exposed to a variety of recycled art forms including collage, relief panels, and found-object mobiles.
Visual Arts ~ Pastels
Victoria Smalls, Instructor ~ Ages 9 – 15 Students will learn pastel techniques using line, shape and blending to create one of a kind pieces of art. Learn these skills just in time for the Annual Chalk Festival.
Performing Arts ~ Circus Skills
JW Rone, Instructor ~ Ages 10 – 15
Explore the exciting physical arts of juggling, balancing and clowning and their relationship to performance.
Thursdays beginning August 27th
Visual Art ~ Handbuilding with Clay
Deanna Bowdish, Instructor ~ Ages 9 – 14
Explore the basic techniques of creating with clay with well-known artist and entrepreneur Deanna Bowdish.
Performing Arts ~ Creative Dramatics
Lisa Clancy, Instructor ~ Ages 6 – 8
All dramatic arts are based on the idea of play. Learn creative dramatics through games, exercises and other methods of creating a story on stage.
ARTsplash Free for Fall: sample mini-sessions of workshops offered this fall at ARTworks, on August 14th, 6:30 to 9pm ~ Free! Beaufort Town Center, 2127 Boundary Street, Beaufort 29902. 843-379-2787, www.beaufortcountyarts.com .