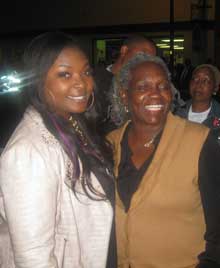 By Willa Koretz
When Mayor Billy Keyserling handed Candice Glover the key to the city, everyone cheered! But no one had ever seen a key quite like this. True to Lowcountry tradition, it was made out of the bulrush that grows along the Beaufort River shore.
How did this key come to be? You'd have to ask Mayor Billy himself – and the much beloved traditional basket weaver Jery B. Taylor – to find out. And that's exactly what we did.
Mayor Billy is admittedly not a fan of giving out keys to the city, as it is a hackneyed expression and, more importantly, he feels that this city's heart is open to everyone. American Idol leaned on him as that is part and parcel of their tradition, so he decided to "play on my drums" and give Candice something that was truly meaningful to her, a piece of St. Helena's natural beauty and a part of her own roots. He went off to Lowe's & bought a shiny skeleton key for shape. And he chose Jery Taylor to make a key to the city out of our very own bulrush, because he realized "that bulrush baskets won't be made forever," and that Jery may be the last master of that art.
Jery received Mayor Billy's visit just five days before he was to present the key. Although she learned to make sweetgrass baskets from her grandmother at the age of five, she was unprepared for this request: a basket in the shape of a key!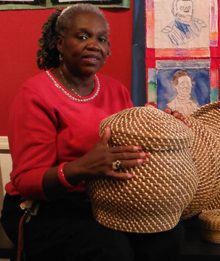 There is a wide and wild array of traditional basket forms: 'elephant ear,' 'Egyptian eye,' 'fruit loop,' deep or flared bread baskets, 'cupboard' & 'cake' baskets. These shapes are more easily made with the sweetgrass, as it is a very pliable grass, easily bent & rounded into any desired shape. But it's a softer grass and not as sturdy as the bulrush. Of course, the most famous bulrush basket was the one Moses was found in. But as far as we know, no one has ever made a basket in the shape of a key.
The Mayor showed Jery the slender, shiny key about 3 inches long. When she asked how big hers should be, Mayor Billy spread his arms about as wide as they could reach. The breadth of the gesture itself was intimidating!
Jery's challenge was not only to faithfully recreate this shape, but the 'basket' would have to be straight & relatively narrow, yet sturdy enough to hold its shape. And not only that, but it would need to arrive at that shape by adhering to the method of weaving that has been a revered tradition here for so long.
Jery said when Mayor Billy left, she thought, "How am I gonna do that?!?!"
I asked her, "What do you do when you have to do something that may never have been done before, and you've got the skills, but no underlying idea . . . and you've only got five days to do it?"
Her answer was swift: "You pray! I said, 'God, this man brought me something and I have no idea where to begin'." She felt directed to Mark 9:23 and read, "If thou canst believe, all things are possible to him that believeth." And she said, "Well, Lord, I got my answer!"
Jery is known as a master basket weaver in both of the Lowcountry tradtions: the sweetgrass basket, made from the pliable grasses growing along vast shorelines, and the hardier bulrush basket, from rushes common among Beaufort's marshes and islands. The bulrush tradition she learned from the late Ms. Janie Cohen, an elder weaver from Hilton Head. Her proficiency has brought her kudos from as nearby as the visitors who buy her baskets as she weaves on the porch of the Gullah Grub Restaurant on St. Helena, and as far away as The Smithsonian, which has exhibited her work.
But while steeped in tradition, she is no stranger to innovation. She originated the idea, and is the only basket maker to marry these two traditions. By weaving baskets that combine the sweetgrass, for its lively color and silky texture, with the bulrush, for its sturdy diameter and bolder look, she creates unique pieces that come directly out of age-old tradition, but are infused with her own very personal artistic vision.
Whether working in sweetgrass, bulrush, or a fusion of the two, her invisible ingredient is always the same. While her fingers work the visible materials, her long-held knowledge of each of these traditions is being woven together with her deep love for the process; and what transpires while you are watching is hard to name. Call it alchemy, the changing of reed into love.
Now, with belief in hand – along with some supple sweetgrass – she began to weave, or 'sew' as the elders called it, a prototype. As expected, the sweetgrass proved too soft for the task and soon began curling, but she gained a sense of shape and density. She worked it with hot glue, but it wasn't what she wanted; she was determined to stick to tradition. After a few more experiments, she was ready to put her hands to the bulrush and tackle this key in its final form.
In her studio, she always has bulrush on hand, cut specially and carefully from the marshes for her, along with a wide variety of basket materials like palmetto leaves and pine straw. Pine straw is used for the beginning of the basket, when 'the knot,' the circle that forms the bottom, is small and tight. That's a given.
But it's always an interesting and informed choice she must make at every moment: What will the final color be when the colors dry, causing them to mellow or deepen? Should I work with sweetgrass and expand the possibilities for shape? Does this homey basket need a little shaking up with some pine knots—or is it perfect in its simplicity?
How long did it take? She said, "I wove day and night. I wanted to finish early, just in case I might need to fine-tune it when I showed it to Mayor Billy.
"When I took it to his office, you should have seen his face when I showed up with a long black plastic bag! But I had to protect it in transit. When he'd first asked me, he had no idea what the results would be. But the key turned out to be a full 39 inches, and when I took it out of the bag, he said, 'AMAZING!!!' "
At this stage, the key became a communal project. Everyone who touched it lent their expertise to
make it the moving gift it turned out to be. Deanna Bowdish, with her keen eye, suggested it needed a visual image, and Terry Brennan, a wonderful artist here, painted that glowing creek and marsh grass scene on the broad expanse of white left by Jery. And Sonny and Georgia Phillips of Charles Street Gallery added the final touch: a wooden backing that meant Candice could hang it on her wall, as after all, there is nothing it could open that wasn't already open in this big-hearted city.
That Saturday at Penn Center's reception, Jery was able to catch a quick moment with Candice. Jery – always one to keep a secret! – said, "Hi Candice. You don't know who I am now, but you will know later . . ."
We will let the photo here eloquently speak the thousand words about the moment when Mayor Billy presented the key to Candice at the concert. The radiant smiles on each of their faces let us know that Candice was thrilled and that Mayor Billy was glad he'd made an exception on the key to the city. He said, "Candice IS the exception. Her perseverance, focus and discipline, her pride in her identity, make her outstanding. She just deserved something very special."
After the concert, through luck, the quick thinking of Geraldine Major, and the kindness of Idol cameraman James, Jery was able to meet Candice and have a photo taken with her. Candice lit up and said, "Now I know who you are!"
While Candice is our rising star, Jery has been a strong presence in the art world here for a long time. She is currently the only practicing basket maker in the traditional St. Helena style, and she often shares her knowledge through engaging workshops taught at museums around the country. Her video "Prelude to a Basket" is both inspiring and educational, colorful in the lush background of the island, the variety of weaving materials, and her own stories of how these baskets came to be.
She uses a certain technique reminiscent of the native island style, which has separated her from other basket weavers, and says she has tried to capture the 'soul' of the ancient baskets of her ancestors to re-create an authentic representation.
She has exhibited widely including at Penn Center and The Colleton Museum and Farmers Market, among other places.
She is also a self-taught folk artist whose paintings capture the essence of growing up on Mt. Pleasant's Boone Hall Plantation: the threshing of rice with fanner baskets, working the cotton fields, cutting bulrush & sweetgrass, casting nets for shrimp, all in bold colors, all telling stories.
It was fitting that the Mayor asked Jery, because she and Candice have a lot in common. Both women come out of and preserve their Gullah roots, both have a deep abiding faith that guides them, both in their art and in their lives. And this beautiful similarity: Candice can take any song, no matter how well known, and make it absolutely her own through her improvisation. And Jery continues to add her innovative twist to an age-old tradition.
St. Helena, Beaufort, the Lowcountry: we're one happy – and talented! – family. Mayor Billy humorously asks, "What are we gonna do now on Wednesday and Thursday nights?" Well, what we've always done, live our lives as the lovely community that we are.
On any sunny day of the year, Jery Taylor can be found on the porch of Gullah Grub Restaurant, sitting in her rocking chair next to a cornucopia of baskets of every shape and size, 'sewing' her baskets and regaling visitors with stories of how they came to be. Mayor Billy can be found in his comfortable office on Charles Street, where, key or no, everyone is welcome in this city! And Candice, well, soon she can be found in the number one spot on the singles chart with her heart-stopping – and oh so true – "I Am Beautiful."