Fordham Market is throwing itself a birthday party, and you're invited! It's hard to believe it's been five years since the historic hardware store at the corner of Carteret and Bay transformed itself into Beaufort's most eclectic one-stop shopping experience.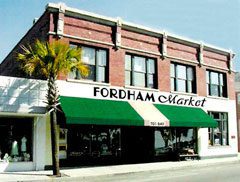 The history of Fordham Market dates all the way back to 1946. Angus & Mark Fordham opened a hardware business which, over the years, became a Beaufort Landmark. In 1965 Duncan Fordham joined the family business, and started introducing such products as Adirondack chairs and squirrel proof bird feeders – hardware store innovations at the time. After fifty seven years of continuous service to the South Carolina Lowcountry, Duncan invited a select coterie of Artists & Merchants to join him in offering "A World of Shopping Under One Historic Roof," and Fordham Market was born.

One thing hasn't changed since 1946 – the Fordham tradition of offering good products and friendly, courteous service. With a warm, family-like atmosphere, the Market is a favorite destination of residents and visitors of all ages. Whether you're looking for a unique antique or original art, a special bird house or funky beach item, jewelry, collectibles, candles, candy, a swing or a shawl, you'll find it at Fordham Market. This innovative establishment is now home to 32 individual shops!

The artists and merchants of Fordham Market would like to thank you for your patronage! They invite you to celebrate five wonderful years on Friday, July 24th, from 5:30 – 7 :30 pm. You'll enjoy live entertainment, wine and refreshments, door prizes, and selected discounts. Visitors can even register for a $100 gift certificate.

Come celebrate with the good folks at Fordham Market. Keep the tradition alive!