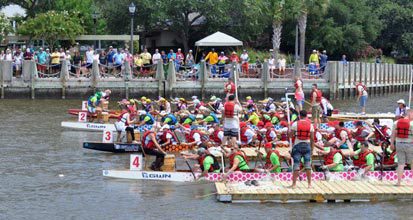 Saturday, July 26: Beaufort's Waterfront Park is a carnival. Tents are everywhere, with weird and wonderfully costumed teams itching to get out on the water and compete. The waiting dragonboat colors flash in the sun.
The Jumbotron catches close ups of the wild get-ups, the high-fives, the last minute limbering stretches of the racers. The first heat's competitors marshal at the starting gate and march, two by two, to the loading area where they are seated like warriors in their boat. The four boats in this heat paddle over to the starting docks, line up and, at the starter's horn, launch themselves in a flurry of flashing paddles and ferocious shouts towards the finish line. It's a fast, furious, adrenalin-rush 250-meter race, right beside the seawall. The strokes set the pace, the drums pound, the coaches bellow instructions, the waters churn. On shore, the spectators scream encouragement, the announcer calls the winner and the exhilarated dragon boaters return to the dock so the next team can show their stuff, go for the gold, the team building, the bragging rights.
On the second Saturday of Water Festival, 36 teams will compete for medals in the 2nd Annual DragonBoat Race Day. They'll be your friends, family, co-workers and people you've yet to meet. They will all be fund racers for DragonBoat Beaufort's all-volunteer non-profit, which provides cancer survivors the opportunity to regain physical and psychological strength through teamwork and competition and also assists local cancer patients with needs they are unable to meet. Team members include male and female cancer patients and survivors, their caregivers and enthusiastic supporters.
"Whether paddling aboard our boat Braveheart as a cancer survivor or as a supporter, cheering from the shore, rallying donors . . . it's a sport that reaches out, emotionally, spiritually and makes everything seem better, makes one feel stronger, connected," says DBB paddler Kathy Holly.
DragonBoat Beaufort is proud to be part of the world's fastest growing watersport (over 60 million globally) and welcomes both contenders and spectators to the Beaufort Water Festival's 2nd Annual DragonBoat Race Day. Paddles up for cancer survivors!