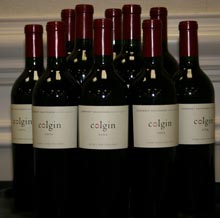 The Arts Center is putting on the glitz and glamour for the return of the Wine Auction Gala. The popular fundraiser is back on the Arts Center grounds for the first time since 2005.
As the organization's primary fundraiser, the elegant evening supports a wide range of the Arts Center's education and outreach activities that provides around 1,700 services annually. But while the kids might be on the minds of the partygoers, the wine will take center stage on March 19.
Wine will be served with a gourmet dinner, compliments of the Westin, and there is a wine-tasting room featuring a silent auction. But the highlight of the evening is the always fun – and spirited – live auction, where participants have a chance to walk away with rare, collectible and popular wines and lots.
"You really have to experience the evening to appreciate how exciting it is," said Kathleen Bateson, Arts Center president and CEO. "The whole event takes place in our parking lot under two large tents, complete with chandeliers. Everyone gets dressed up for the evening, and you are surrounded by friends and neighbors. By the time the auction rolls around, we're all in a great mood."
Among the lots featured in the live auction are cases of 1995 and 2000 Bordeauxs and 1997 Cabs, a Silver Oak package, a Pride Reserve Cabernet Vertical, a 100-point Barolo Riserva, two bottles of Chateau Petrus 1985, a nine-bottle vertical of Mondavi Reserve Cabernet, and several fabulous wine dinners.
In addition to the wine, the auction will also feature exotic trips and experiences, such as vacations to Italy, Scotland, Aspen, Colo., and Cape Cod, Mass. An African Safari, dinner at the Governor's Mansion, a Norwegian coastal voyage, and a package that includes a weekend in New York at the four-diamond Boutigue Muse Hotel and two tickets to the Tony Awards will also be auctioned. Other lots include: paintings by artists Candace Lovely and Joe Bowler, a tour of the Frank Lloyd Wright house in Greenville, a quail hunt and much more.
Overseeing the auction is Tom DiNardo, one of the nation's preeminent charity auctioneers. DiNardo has worked with celebs such as Jay Leno, Tyler Florence and Yogi Berra. He has set several world records for charity auctions, is a member of the International Society of Appraisers and an International Sommelier Guild-approved sommelier.
"We're thrilled to have Tom host our auction," said Bateson. "He is highly respected in the business and always in demand. And with his background in both appraisals and wine, it makes him a particularly good fit for our evening. Plus, he's entertaining, and that is important for a gala like this."
The Arts Center of Coastal Carolina is a charitable 501 (c)(3), non-profit performing arts organization. In addition to a 349-seat, main-stage theater that programs an annual theater series – producing professional Equity musicals and plays – the organization presents performing and visual artists, conducts regional arts educational programs, and produces three community outreach festivals.
The Wine Auction Gala starts at 5:30 p.m. with the wine tasting and is black-tie optional. There is also VIP check-out available. Tickets are offered for singles and couples at $175 and $225, as well as corporate and group tables at $3,500.
To reserve your seat, call 843-686-3945 ext. 400 or e-mail jhahn@artshhi.com. For more information and to see some of the auction items, visit www.artshhi.com.