Christmas will be in the air a little earlier this year in Beaufort's Hermitage Neighborhood.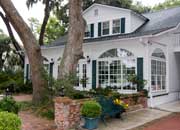 The weekend before Thanksgiving, the waterfront homes of Hermitage Road will be decked out in festive décor as St. Peter's Catholic School Development Committee presents the 7th annual Homes for the Holidays. This year seven exquisitely decorated private homes and lush gardens will be featured.
The area most locals refer to as "the Hermitage" has a very unique history. It was one of the first subdivisions established in Beaufort. Named "Hundred Pines" by developers in the late 1930's, Hermitage Road is just off Ribaut Road and borders Battery Creek on the west.
The seven houses on this year's Homes for the Holidays tour were selected for both their unique style and exceptional gardens. Each house offers spectacular water views. Through the generosity of these homeowners and professional designers, St. Peter's Catholic School's Endowment Fund will again benefit from this fundraising event. Established in 2002, the endowment fund assists the parish in enrolling students whose potential is limited only by financial resources. The tour and the opening night gala have deposited over $200,000 in the educational fund.
Through the talents of several local interior designers and garden clubs the participating homes are transformed into a festive array of holiday cheer. Christmas trees are skillfully trimmed, mantles and doors are decorated with live greenery and, at some properties, outdoor landscaping will be adorned with holiday sparkle.
The Details:

Enchanted Garden Gala
Friday, November 21st 7:00pm
Walsh Palmetto Room
St. Peter's Catholic Church campus

Heavy hors d'oeuvres & Open Bar with Specialty Martini Bar
catered by Granville's of Charleston

Encore Performance by the Maxx of Atlanta
A Sensational Silent Auction
2008 Gala Designer: Ashley Rhodes of Ashley Rhodes Events
The Homes for the Holiday Tour of Homes:
Saturday, November 22nd from 11am – 3pm
Sunday, November 23rd from Noon – 3pm.

Tickets for the gala are $125 per person.
Gala and tour ticket $150.
Tour ticket $35.
For tickets by mail call (843) 522-6510 Visa & MasterCard accepted.
Locations for purchase in Beaufort: Bay Street Trading Company,
the Chocolate Tree, the Beaufort Chamber of Commerce, and Tideland Realty. Also, tickets are available at the tour. Parking and shuttle will be at the Technical College of the Lowcountry.