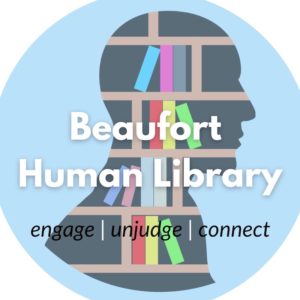 "Connect with Your Library" is the theme of this year's National Library Week, April 3-9. Honoring this theme, the inaugural Beaufort Human Library will be held as a free public event on Sunday, April 3, from 1:00 to 4:00 p.m., hosted by the Beaufort County Library at 311 Scott St., Beaufort, in partnership with the nonprofit Pat Conroy Literary Center, Beaufort High School's Diversity Awareness Youth Literacy Organization, and community organizers and volunteers.
The event's "books" will be more than a dozen Beaufort community members from diverse backgrounds and experiences. The human books will be available to be "checked out" in the library for conversations with "readers" about challenges the books have faced and circumstances they have overcome. The goal of these engaging conversations is to foster empathy and invite greater understanding of the many human stories to be found and shared in our communities. Topics of conversation may include occupations, education, healthcare, gender, race, immigration, addiction, and law enforcement, among others—but ultimately the dialogues will always focus of building bridges of understanding and acceptance, person to person.
No advance registration is needed. Attendees can arrive between 1:00 and 3:30 to check out any available books for 30 minutes of conversation, or to wait for the next opportunity to check out a book. Beaufort High School student volunteers (the "bookmarks") and adult volunteers (the "librarians") will be on hand to guide attendees through the process.
Learn more at the Beaufort Human Library Facebook page, www.facebook.com/beauforthumanlibrary, or the Pat Conroy Literary Center website, www.patconroyliterarycenter.org.
This free educational program is sponsored in part by South Carolina Humanities, a not-for-profit organization inspiring, engaging and enriching South Carolinians with programs on literature, history, culture and heritage.