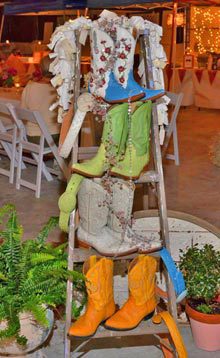 6th Annual Boots & Bling to benefit the YMCA
Break out your boots, pull on your jeans, grab your friends and mosey on over to The Shed in Port Royal on Saturday, Oct. 17 at 6 pm for an amazing evening of western-themed food and fun with a touch of sparkle and bling. Yes, it's time for one of northern Beaufort County's favorite fall events: The Boots & Bling Fundraiser and Silent Auction presented by CBC National Bank!
This year's down-home soiree' includes drinks, hors d'oeuvres, a barbeque buffet dinner, live music with Chris Jones, the always sensational silent auction, and back again by popular demand, the golf cart raffle! This year's golf cart is a 'loaded' 2009 Zone cart featuring windshield wipers, seating for 4, a 19-mile per hour chip, front headlights, faux wood interior paneling and sports a shiny red finish perfect for every South Carolina, Georgia or Alabama fan.
Golf cart raffle tickets are $25 each or 5 for $100 and are on sale now at the YMCA in Port Royal and can be purchased at the event. Boots & Bling Committee Chair Kelly Collins adds, "You do not need to be present at Boots and Bling to win the golf cart, but we hope the winner is there – it makes the moment extra exciting."
The 2015 silent auction includes an eye-popping selection of goodies: a 12-foot Perception sit-on kayak, stainless steel gas grill, Walt Disney World tickets, original artwork, gift certificates to the best restaurants and boutiques in the county, hotel stays, unique Lowcountry experiences and more. What a great opportunity for some extra-early holiday shopping. And with all proceeds benefitting the YMCA of Beaufort County capital campaign, there's no buyers' remorse. Feel good helping out a great cause!
YMCA CEO Mike Bostwick states that funds raised at this year's event will go toward repairs to the Y's roof. "The local Beaufort business community has really stepped up through sponsorships and in-kind donations and we are very grateful," Bostwick adds, "Without all their assistance and financial support, an event like this just would not be possible. We especially want to thanks our presenting sponsor CNC National Bank as well as our diamond and emerald-level sponsors Schiller & Hamilton Law Firm, Lowcountry Insurance Services, New South Shirts, Greg and Sarah Dyson, Peter and Jane Post, Dean Hewitt, John and Mary Jane Martin and the Town of Port Royal for providing The Shed event space."
Some of the fine fare to be enjoyed at this year's Boots & Bling includes barbeque by Q on Bay as well as specialties by Smokin' Planks, The Kitchen, Plums/Saltus, Athenian Gardens, Carolina Wings, Red Rooster Café, Agave, Fat Patties, Piggly Wiggly, Brenna Chiavello, Dockside, Emily's Restaurant, and Agave'. Truly a bodacious spread of superb eats in addition to auction 'shopping', music and dancing.
"This is the Beaufort area community coming together and putting our best boots forward, so to speak," Collins adds. "Hobnobbing with our loyal Y supporters is always great plus we're also hoping to see some new faces join in the fun. We're pulling out all the stops to make the 2015 Boots & Bling Fundraiser the biggest and best yet!"
Tickets for Boots & Bling are $50 per person and $90 per couple and are on sale now at the YMCA in Port Royal (1801 Richmond Avenue), online at ymcabeaufortcounty.com or can be purchased at the event door.