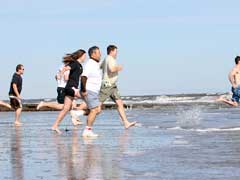 Friends of Hunting Island State Park (FOHI) and the Hunting Island State Park are jointly hosting the Lowcountry version of the ever-popular Polar Bear Plunges with the 3rd Annual Pelican Plunge at Hunting Island State Park Lighthouse (North) Beach on January 1st, 2011 at 1:00 pm.
The scene for the 2nd plunge was wet and wild:  Ready? Set? Goooooo!" shouted park manager Jeff Atkins. And with that,  hundreds  of  Pelican  Plungers raced for the cold Atlantic on the first day of 2010. As a fabulous steel band played,  about 400 people dove into the roaring surf or cheered the brave souls on.
Not only did the Plunge draw a huge crowd of plungers and spectators to the park for celebration,  but,  just as important , the event  raised over $3,000 for the Discover Carolina program,  which lets students participate in hands-on educational field trips designed specifically to fulfill South Carolina-accredited science standards.
This third annual Pelican Plunge will see bathers of all ages jumping into the surf to greet the New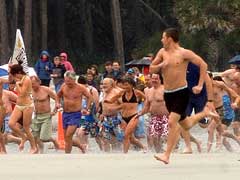 Year. Plunger donations will again be raised on behalf of the Discover Carolina school program, administered by the Friends and the Park. Individuals and teams are encouraged to sign up sponsors to pay them to plunge. This year the person or team that raises the most money will win a fantastic grand prize. Commemorative Pelican Plunge t-shirts are already available for just $16.00 at the Park Store and will also be available on the day of the Plunge.
Hunting Island State Park is one of South Carolina's most popular parks with more than 1.2 million visitors a year. "This is all about fun," said Park Manager Jeff Atkins, "and we hope to introduce even more people to our beautiful park and all it has to offer while participating in such a worthy cause.  Not only was our second Plunge event great, it was a blast for everyone who came out. We are really looking forward to doing this a third time and for many years to come."
"The Friends are involved in so many activities and improvements at the park, so that when Jeff and his staff came to us with this idea back in 2008, we signed up immediately," said Friends president, Bonnie Wright. "Hunting Island is a treasure right in our backyard and here is another exciting reason to enjoy it all year round." 
Bathers and their cheering sections will gather for registration at the picnic area near the lighthouse beginning at 12:00 noon.  Schools, government offices, fire and police, Rotary Clubs and other organizations are invited to get friends and family to donate so as to entice as many as possible to take the Plunge!  When the clock strikes 1:00 pm it will be time for the first swim of 2011—however brief that may be!
For more information about the Pelican Plunge and registration/donation forms visit: www.friendsofhuntingisland.org