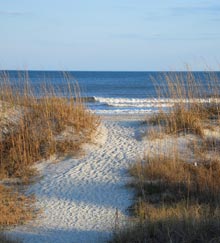 The routes for LoCo Motion, a 30-mile, three-day breast cancer walk/run fundraiser, will take participants from the beaches on Hilton Head Island to historic old town Bluffton.
The first 10 miles on Sept. 30 start on Folly Field Road and end at the Westin Hilton Head Island Resort & Spa beachfront. On Oct. 1, the route begins and ends at the Calhoun Street Promenade in Bluffton. On Oct. 2, the route begins and ends at the Coligny Beach Circle on Hilton Head.
There will be bands and deejays along the routes, and after-parties will be held each night of the event at the finish lines. Homes and businesses along each of the routes are encouraged to decorate their yards and storefronts with a pink theme to thank/welcome everyone at the event.
There will also be cheering stations along the way, including a "Survivor Tent" manned by one of the event's sponsors, Hilton Head Hospital. "We believe there is never a bad time to celebrate cancer survivorship," said June Kasiak-Gambla, breast care coordinator at the Breast Health Center at the hospital. "Survivors are a source of inspiration and hope and proof that cancer can be defeated."
But help is still needed, said event coordinator Laura Morgan. "We're looking for additional sponsors,
particularly aid station sponsors, where businesses and groups will pass out water and sports drinks to the participants, and have the option to distribute promotional items. Many of these sponsors plan on decorating their stations and having their team dressed in costumes."
While completing all three legs isn't necessary – although participants that do the full 30 miles will receive a medal – training is encouraged for all participants. To help make that training easier, organizers are offering a six-week training calendar, which can be found at www.dothelocomotion.org.
For those who want a bit more motivation and/or accountability, group training sessions are also being offered twice a week.
Beaufort Memorial Hospital's LifeFit Wellness Center is leading training walks and runs at 5:30 p.m. Tuesdays and 7:30 a.m. Saturdays.
In Bluffton, sessions are scheduled at 6 p.m. Tuesdays at the Bluffton High School track and 7 a.m. Saturdays at Palmetto Running Company.
Hilton Head Island training is being held at 5:30 p.m. Tuesdays at Hilton Head Hospital and 7:30 a.m. Saturdays at Islanders Beach Park.
"When you think about what breast cancer patients go through – the surgery, the months of chemotherapy and radiation – walking 30 miles doesn't seem so bad," said Connie Duke, director of oncology services for Beaufort Memorial Hospital, which is the lead sponsor of the event. "It's a challenge, but it's a fun way to make a difference."
The event also makes a great training run/walk for people training to do the Bluffton Half Marathon and/or the Rock 'n' Roll Marathon.
Meanwhile, volunteers are still needed for a variety of jobs at LoCo Motion, including planning and coordination, marketing, fundraising, on-site registration, course assistance and administrative duties.
Proceeds from LoCo Motion will benefit several regional cancer organizations, including Beaufort Memorial's Keyserling Cancer Center and the Hollings Cancer Center at the Medical University of South Carolina in Charleston. Donations will be accepted at the event and can also be made directly to Carolina Cups, the organization sponsoring LoCo Motion.
Beaufort Jasper Hampton Comprehensive Health Services is also one of the beneficiaries.
"The LoCo Motion race will help us to provide follow-up care for women of the Lowcountry," said nutritionist Valerie Muehleman. "Last year BJHCHS served over 515 women, three with breast cancer. There were several months that care couldn't be provided since the funds ran out. LoCo Motion will help us to educate about prevention and allow women access to care who otherwise couldn't afford a mammogram and follow-up care."
People from Canada, Colorado and Maine have registered to take part in LoCo Motion. Approximately 80 percent of the current registrants are from out of town; 95 percent of registrants are signed up to do all 30 miles.
For more information on the race/walk routes, registration, volunteering, sponsorships or donations, visit www.dothelocomotion.org or call 843-868-1888.
For more information on training, call Beaufort Memorial Hospital at 843-522-5637 or the Palmetto Running Club at 843-815-1718.