Earlier this month, a group of our friends came over to help Vince and me test some new recipes. Local photographer, John Wollwerth, joined us and took these great photos! Thank you to our models Mark and Audra Alexander, Mike and Kim Clark, Steve Danko and Vince Covington.  And, a special thank you to Sue Merrill for the beautiful flowers! I have so many recipes and photographs that I'm going to share them in two parts. Be sure to pick up the next edition of Lowcountry Weekly to read Mexican Fiesta – Part II.
Raspberry Margarita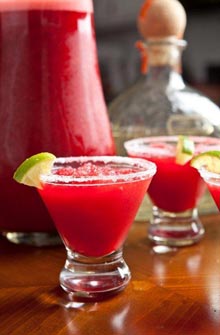 Salt your glass by rubbing a slice of fresh lime around the rim and then dipping the glass in coarse salt. For added flair, serve individual margaritas with a slice of lime on the side.
1 (12-ounce) package frozen raspberries, thawed
3 (6-ounce) cans frozen limeade concentrate, thawed
12 ounces tequila
4 ounces triple sec
Puree raspberries and limeade in a blender until smooth. Pour through a fine sieve to remove raspberry seeds; return to blender. Add tequila and triple sec. Blend until smooth. Serve over crushed ice. Garnish with fresh lime. Serves 10 to 12.
Black Bean-Goat Cheese Dip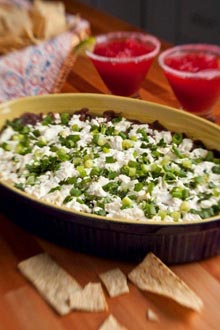 This chip and dip combo is so savory and satisfying, you'll never notice it's actually good for you!
1 tablespoon olive oil
1 cup chopped onion
2 cloves garlic, minced
1½  teaspoons ground cumin
2 (15½-ounce) cans black beans, drained and rinsed, divided
1 cup chicken broth
Salt
Freshly ground black pepper
2 large poblano peppers
½ cup sliced green onion
½ cup coarsely chopped fresh cilantro
1 (11-ounce) log fresh goat cheese, crumbled
6 whole-grain tortillas (cut into wedges)
Olive oil, for brushing
Sea salt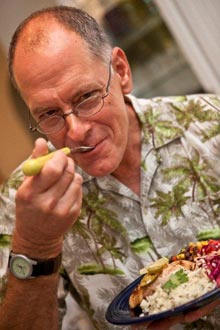 In a large saucepan, heat olive oil over medium heat. Add onion and garlic and cook until softened, about 5 minutes.  Stir in cumin and 1 can of black beans and lightly mash using a potato masher. Stir in chicken broth and remaining can of beans. Simmer until very thick, about 5 to 7 minutes. Season with salt and pepper. Let cool. Meanwhile, blacken poblano peppers on a sheet pan under a broiler, turning regularly, about 15 minutes. Place peppers in a paper bag; seal and let sit (and steam) until cool enough to handle. Peel peppers, removing as much of the charred skin as possible without rinsing. Seed and coarsely chop. Transfer to a small bowl and toss with green onions and cilantro. Preheat oven to 350 degrees. In the  bottom of  a 1-quart baking dish, spread half of the bean mixture. Top with half of the crumbled goat cheese and half of the pepper mixture. Repeat layering once more, ending with pepper mixture. Bake for 30 minutes or until the top is bubbling. Meanwhile, arrange tortilla wedges on a large baking sheet in a single layer. Place in oven with dip and bake 12 to 15 minutes or until crisp. Brush with oil and sprinkle with sea salt. Serve dip hot with tortilla chips on the side. Serves 8.
Jalapeno-Lime Chicken Thighs
Tangy, mildly spicy and tender, this chicken is delicious with fresh salsa!
8 boneless, skinless chicken thighs
3 tablespoons jalapeno jelly
1 tablespoon olive oil
1 tablespoon lime juice
1 clove garlic, minced
1 teaspoon chili powder
½ teaspoon black pepper
1/8 teaspoon salt
1 teaspoon lime zest
Pickled jalapeno slices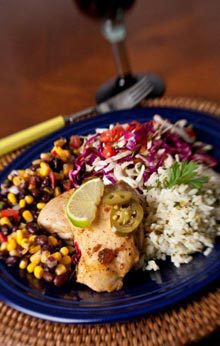 Preheat oven to 400 degrees. Line a 10×15-inch jelly-roll pan with foil; spray with nonstick cooking spray.  Arrange chicken thighs in a single layer in prepared pan.  Bake for 10 minutes; drain off juices. Combine jelly, olive oil, lime juice, garlic, chili powder, pepper and salt in a small bowl. Turn chicken; brush with half of jelly mixture. Bake 10 minutes. Turn chicken; brush with remaining jelly mixture. Bake chicken 10 to 15 minutes more or until juices run clear. Garnish with lime zest and pickled jalapeno slices. Serves 8.
Cilantro-Lime Rice
This rice with it's fragrant hint of lime and cilantro makes a fine side dish for Mexican food as well as other dishes. It's great in burritos, too!
1 tablespoon olive oil
1 cup basmati rice
1½ cups chicken broth
2 to 3 cloves garlic, minced
2 tablespoons fresh lime juice
Zest from one lime
½ cup chopped cilantro
1 teaspoon salt
Heat the oil in a saucepan and heat on low. Add the garlic and rice to the oil and saute for 2 minutes on medium heat, stirring frequently.  Add the chicken broth, salt, lime juice and bring to a boil. Cover and cook on low for 15 minutes or according to rice package directions. When the rice is done, add the lime zest and chopped cilantro and stir to mix in. Serve immediately. Serves 4.
Corn and Black Bean Salad with Cumin Vinaigrette
Southwestern Caviar!
2 (15.25-ounce) cans yellow corn, drained
2 (15.25–ounce) cans black beans, rinsed and drained
3 medium tomatoes, seeded and chopped
¼ cup minced cilantro
½ cup chopped red onion
¼ cup fresh lime juice
1/3 cup red wine vinegar
1 teaspoon Dijon mustard
2 teaspoons ground cumin
4 tablespoons vegetable oil
In a medium bowl, combine corn, black beans, tomato, cilantro and red onion.  In a small bowl, whisk together lim
e juice, vinegar, mustard, cumin and vegetable oil. Toss dressing with vegetable mixture. Refrigerate at least 4 hours before serving.  Serves 8 to 10.
Southwestern Coleslaw
Resist the urge to buy lime juice in a bottle. It just doesn't compare with fresh-squeezed! One medium lime produces 1 to 2 tablespoons unstrained juice. For the ½ cup of lime juice in this recipe, figure about 6 limes depending on their juiciness.
1 (14-ounce) package coleslaw mix
1 cup canned black beans, rinsed and drained
¼ cup chopped fresh cilantro
1 medium tomato, seeded and diced
½ medium red onion, diced
1 jalapeno, seeded and finely diced
1 avocado, pitted, peeled and diced
½ cup fresh lime juice
2 tablespoons rice vinegar
2 tablespoons olive oil
½ teaspoon ground cumin
Place coleslaw mix, black beans, cilantro, tomato, red onion, jalapeno and avocado in a large salad bowl. Whisk together remaining ingredients in a small bowl. Pour over coleslaw and toss gently. Serve immediately. Serves 6 to 8.
The writer owns Catering by Debbi Covington and is the author of the cookbook, Dining Under the Carolina Moon. Debbi's website address is www.cateringbydebbicovington.com. She may be reached at 525-0350 or by email at debbic@cateringbydebbicovington.com.