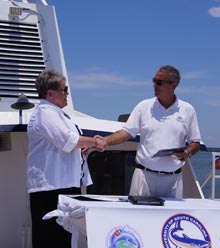 On a gorgeous afternoon earlier this month, Lowcountry Weekly joined other media folks, along with a host of university employees, for a delightful cruise around the Calibogue Sound, courtesy of USCB and Vagabond Cruise.
It was on this cruise that Chancellor Jane T. Upshaw and Captain Keith Walston announced a collaboration in support of environmental research initiatives, making it official by signing a memorandum of understanding between the University and Vagabond Cruise. Because USCB has just added a new concentration in Coastal Ecology and Conservation, the timing could not be better.  As a result of this new relationship, students and professors will have the opportunity to conduct research in the Calibogue sound, an estuarine environment. This will be a tremendous research opportunity, as noted in USCB researcher Dr. Joe Staton's article in the Journal of Experimental Marine Biology and Ecology, "the estuarine environment is a dynamic habitat that presents a constant physiological
challenge to its inhabitants."
Fellow USCB researcher Dr. Steve Borgianini (who will be mentoring USCB student Brandon Hughes in his fiddler crab research aboard the Vagabond) published in the journal Marine Biology that a dense populations of fiddler crab not only inhabit coastal marshes but extend far inland, beyond tidally influenced region into completely freshwater reaches.  These fiddler crabs are an important link in the food web of the salt-marshes, converting vegetation into animal protein.  These, in turn, are prey items for many other inhabitants of the coastal zone, such as fish and mammal species.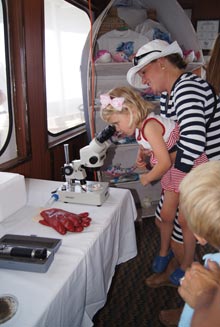 Dr. Eric Montie's will be working with USCB student Rebecca Rawson on research that focuses on several of these marine vertebrates by analyzing the ecology of sound in the salt marsh. Not only do dolphins use sound to locate prey, but important fish species (drums) use sound to court and locate their mates.  His lab is in the process of developing a passive acoustic system that will generate long-term datasets that will be used to investigate the effects of ecological and human-made stressors on fish and dolphin reproduction – important indicators of ecosystem health.
These researchers' collective work has been widely cited, and has led to advances in coastal ecology research within the greater scientific community.  As such, this coastal expertise of local waters will add a new dimension to the island visitor experience. Tourists on the Vagabond will participate with student researchers, such as Brandon Hughes and Rebecca Rawson, in collecting acoustic and plankton samples that will be analyzed for this research. Furthermore these students will interpret the research findings to date and explain to guests their role in the research process. Consequently, the visitors will gain greater insight into the Hilton Head Island coastal ecosystem and the process of coastal research. The result of the collaboration will lead to higher level learning of both University students and the visitors to Hilton Head Island.