Beaufort's Old Commons neighborhood plans a fun fundraiser…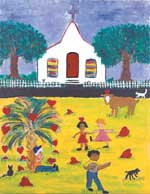 The sounds of dance music will be heard in the Old Commons Neighborhood Saturday, May 30, 6 p.m. – 9 p.m., when The Foundation Band plays three-hours of blues, R&B, oldies and pop hits outdoors in the heart of the Commons. Sponsored by the Old Commons Neighborhood Association, the event is a fundraiser to erect historical markers in the neighborhood, one of the five designated districts in Beaufort's National Historic landmark District.
The Foundation Band is led by Seaborn Westbrook, a New Orleans musician who was happily blown to Beaufort on the winds of Hurricane Katrina. Married into a local family, the Frazier-Pazants, with professional musical roots in Beaufort since the early 20th century, Westbrook organized The Foundation Band in 2005.
Featured in the band will be New York professional saxophonist/clarinet player Edward Pazant, who grew up in Beaufort in the Pazant family. The Foundation regularly features guest artists in its local gigs which gained local popularity in 2008 as regulars at the street dances in Port Royal sponsored by the Arts Council of Beaufort County. Regular band members are locals Kevin Young, vocalist and drummer; and Manuel Landers, vocalist and keyboards. Westbrook plays bass guitar and sings.
The fundraiser is one of a half-dozen that the neighborhood association has held in support of activities which preserve and protect its history. It was a leader in the drive to stabilize the 130-year-old Sons of Beaufort Lodge, the only one of many 19th century civic lodges still in use in Beaufort.
The first historical marker will be installed at the ca. 1849 Wesley United Methodist Church where neighborhood meetings are held. Additional funds will do the same at the gothic-style ca. 1849 Berean Presbyterian Church (now USCB Art Studio) at 137 Carteret Street.
Tickets at Concert in the Commons are $10 each and will be sold at the gate. The event will be held at the SW corner of Prince and Scott's Streets, in a large field owned by the Baptist Church of Beaufort. Guests should bring lawn chairs or blankets.
A fish fry dinner will be served, 6 p.m. – 8 p.m., by the members of the Sons of Beaufort Lodge #36, Fish and all the fixings are $8.50 each. Profits will support continued restoration of the Lodge.