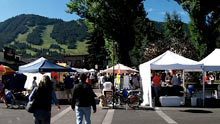 Often, it takes stepping back from one's home environment to really understand it – to understand how and why things work or don't work, and what makes it a truly great place to live. I recently took a vacation to the beautiful mountain town of Jackson Hole, WY. While most of the trip was dedicated to nature (T1 if you'd like to classify it by transect zone!), I went to town – the actual town of Jackson Hole – a couple of times to enjoy dinner, shopping and the Saturday Farmer's Market. Those trips, along with a few statistics I picked up while visiting, led me to compare this western town with the City of Beaufort. Here's what I discovered:
The Facts
Jackson Hole
Jackson Hole is located in a flat valley, nestled in the midst of a few major mountain ranges – The Teton Range, which is the closest, along with the Gros Ventres and the Wind Rivers. The town has a population of around 10,000 people in 3 square miles, with a median household income of $58,000. The county is much larger, at 4,000 square miles, though 97% of the land is in conservation as a dedicated national park or forest, so a very small amount of the land is actually developable. The population of Teton County is around 20,000, double the population of the town. A large part of the economy in Jackson is tourism. They receive just over one million tourists annually in two seasons – summer and winter. During the fall and spring, the commercial base is reduced to its 10,000 year-round residents only.
Beaufort
Beaufort, as we all know, is located on the Beaufort River near its confluence with the Atlantic Ocean,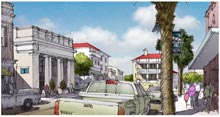 and is surrounded by the Port Royal and Saint Helena Sounds. The city has a population of around 12,000 people in 18.6 square miles, with a median household income of $46,000. The county spreads over 580 square miles and has more than 10 times the population of the City of Beaufort at roughly 160,000 people. A large part of our economy is tourism and we receive around 550,000 visitors each year. Though Beaufort definitely sees more prominent waves of tourism during the summer and fall, the mild weather attracts visitors year round.
Observations:
So why bother comparing the Town of Jackson Hole and the City of Beaufort? Well, there are a few similarities: both are engulfed by nature, which is a large attractor to residents and visitors. And, both have similar population sizes and the economies rely significantly on the tourism industry.
One thing that struck me about the town of Jackson Hole was its vibrant atmosphere and large commercial district. Their historic downtown is comprised of nearly 30 blocks of stores, restaurants and businesses geared towards both locals and visitors. The Saturday Farmers Market, which does not start until July 4th due to the short growing season, attracts thousands of people each week. Restaurants and shops are crowded with a diverse mixture of people. Sure, the town has its fair share of tourist t-shirt shops and attractions – let's not forget the Ripley's Believe it or Not! – but in general, the town has done a great job of not being completely overrun by tourism. It is still the place for locals to shop, gather and dine. I ran into practically everyone I know in Jackson during my two visits to town!
So how can a town of this size support such a vibrant and diverse economy? The answer is simple: The majority of the population LIVES DOWNTOWN. This is where the more affordable housing stock is, so it's therefore the natural place for full time residents.
This City of Beaufort has a commercial district in its historic core that spans about 10 blocks. It is always evolving and growing, but at one point in history, specifically during the early 1900's, the city core served all of the needs of local residents. There were grocery stores, hardware store, drug stores, jewelers, print shops, a clock repair shop, a wood and coal yard, shoe stores, laundry services, a bank, a ship chandlery, furniture shops, and two liveries, in addition to restaurants and hotel rooms. At this time, the majority of the population lived in the historic core.
Now that Beaufort's population has expanded, two things should happen:
1.   The various cities and municipalities in the county should make it desirable to live in compact, walkable neighborhoods, including existing historic downtowns.
2.   Commercial nodes should occur in multiple places, serving the needs of many different neighborhoods locally, and not just solely in the historic cores. This is already happening in Beaufort, along Boundary Street and Ribaut Road. Port Royal has two defined commercial centers as well. These should be populated as much as possible with local businesses.
Beaufort has a few great benefits over Jackson Hole which allow it to thrive and grow. The mild weather provides year round access to the natural beauty that surrounds it. Beaufort is easily accessible by car for millions of people from Florida to the mid-Atlantic. And we have a great potential for industry, which is something Jackson and other mountain-locked towns of the west struggle with. Beaufort's access to interstates, railway and seaports, as well as South Carolina's business-friendly laws, makes it a prime place to come and set up a new business.
Beaufort has tons of potential and we are realizing a lot of it, but there is still room to grow. Stepping back and seeing how other places work and become successful often gives great insight into how to improve our own hometowns.
This article was written for Lowcountry Weekly by Lauren Kelly, Congress for the New Urbanism – Carolinas Chapter. For more info, visit www.cnu.org