Bluffton knows how to throw a party. And the 35th annual Bluffton Village Festival won't disappoint.
The festival, coordinated by The Rotary Club of Bluffton, will be held from 10 a.m. to 4 p.m. Mother's Day weekend Saturday, May 11 in Old Town Bluffton. The street fair is truly "a celebration of Bluffton life," filled with all things quirky, eclectic and family friendly.
This is a day for locals and visitors to enjoy art, music, food, kids' activities and celebrate all the beauty and charm Bluffton has to offer! Admission is FREE.
The Bluffton Village Festival, commonly known as Mayfest, was created to give Bluffton residents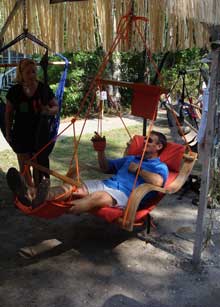 and visitors a chance to have some hometown fun and be exposed to the amazing craftsmen, artists and musicians in our region.
"To me, the festival captures the essence of what makes Bluffton so special," says Patrick Wright, the Rotary Club of Bluffton's president-elect and this year's BVF chairman.
The Rotary Club of Bluffton assumed responsibility of this hometown favorite five years ago. The club's goal is to maintain the unique spirit of the festival, while continuing to offer more ways for locals and visitors to get involved. The club, which is celebrating its 25th anniversary this year, provides the necessary manpower to run and manage the Old Town Bluffton street party.
The event is managed by dedicated business people and community leaders who live out the Rotary motto, "Service Above Self." As Wright says, this is the club's gift to the community it serves so lovingly.
On the big day, Calhoun Street is full of electric energy and Southern hospitality. Close to 200 vendors from across the South will be selling jewelry, flowers, antiques, print and original artwork, quilts, glass art, pottery and more. The 10,000 or more guests in attendance will have their choice of savory Lowcountry favorites such as the festival's famous shrimp salad sandwiches from The Church of the Cross along with barbecue, funnel cakes, seafood, smoothies and lemonade. This event is the "epitome of quintessential Bluffton culture."
As Wright says, "If someone had one day to spend in Bluffton, I would recommend they come to the Bluffton Village Festival. It's the single best time to experience what Bluffton is all about."
New this year, in honor of the Festival's 35th anniversary, will be the Pie Eating Contest. Contestants will race to see who can devour a tasty strawberry pie the fastest. The mouth-watering pies will be prepared by local bakery, The Sugaree.
Scott Keith, program director and on-air personality for 103.1 The Drive and AM 1130 and FM 93.5 The Island, will act as emcee the event. What's more all-American than watching friends, neighbors and total strangers stuff their faces and make a huge mess?
"It certainly should be a Pie-a-Palooza, so better keep some antacids on hand for that post-pie recovery," Keith says.
Prizes will be awarded for first, second and third place.
And be sure not to miss the 25th annual Ugly Dog contest at 1 p.m. This zany and unpredictable event is sponsored by Richard Coeffield of May River Realty. All ugly dogs are welcome to enter! And the "top" three dogs receive a coveted trophy by local potter, Jacob Preston.
"We appreciate all the support and people who enjoy the silliness with us," Coeffield says.
BLUFFTON VILLAGE FESTIVAL ENTERTAINMENT LINE-UP
Main Stage
Sun City Cloggers at 10 a.m.
Bluffton Dancers at 11 a.m.
Pie Eating Contest, sponsored by The Sugaree, at 11:30 a.m.
Ugly Dog Contest, sponsored by May River Realty, at 1 p.m.
Sun City Strummers from 2-3:30 p.m.
North End
Bulldog Blues Band from 10 a.m.-noon
Willie Cohen from noon – 2 p.m.
Howard Duff from 2-4 p.m.
South End
Chilly Willy Band from 10 a.m.-noon
Bill Dupont from noon-2 p.m.
Jim Davidson from 2-4 p.m.
General Tips for Festival-goers:
• A good pair of walking shoes, bug spray, sunglasses and sunscreen will keep you comfortable.
• Friendly dogs are welcome at the festival on a leash. Several of the pet nonprofits provide water and a swimming pool for hot dogs!
• Rotary volunteers will be available to assist you throughout the day.
Free parking will be available at Red Cedar Elementary School with free shuttle services to Calhoun Street running continuously from 9 a.m. to 5 p.m. The buses are air conditioned, and there will be one bus designed for guests with disabilities. Transportation provided by Palmetto Breeze.
Directions to Red Cedar Elementary:
• From S.C. Highway 278: take S.C. Highway 46 toward Bluffton. Take the first right off the traffic circle onto Bluffton Parkway. At the first light take a left onto Red Cedar Street. Follow parking signs to the school.
• From May River Road: turn onto Pin Oak Street and go all the way to end. Take a left at the three-way stop. Then, take a right onto Red Cedar and follow parking signs to the school.
This year's Bluffton Village Festival media sponsors include Bluffton Today, Bluffton Breeze magazine, The Bluffton Sun, CB2 magazine, Hilton Head Monthly magazine, Lowcountry Weekly, Accurate Lithograph Printing Co., Adventure Radio 93.5FM/1130AM The Island, Radio Sol, 104.9FM The Surf, The Drive 103.1 and WHHI TV.
For information call 843-815-2277, visit blufftonvillagefestival.com or like us on Facebook.