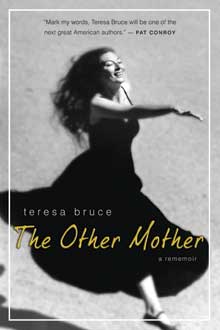 If you recognize the woman on this book cover, chances are you're A) a long-time Beaufort resident, B) a fan of the arts, or C) a patron of the Beaufort County Library's Special Collections. It's Byrne Miller – founder of the Byrne Miller Dance Theatre – and she's the subject of a new memoir by former WJWJ anchor Teresa Bruce.
"The Other Mother: A Rememoir" comes out in hardcover in September from Joggling Board Press. But the publisher is giving Lowcountry Weekly readers a sneak peek. This Mother's Day you can download the first chapter of Bruce's memoir for free at the JBP website (www.jogglingboardpress.com) or sign up for a newsletter to deliver free installments to your email inbox until the September official release.
Byrne and Duncan Miller do not blend into the beautiful background that is Beaufort, South Carolina. She is an 82-year-old modern dance pioneer from Manhattan who started out on the burlesque stage during the Great Depression. He is a pipe-smoking, frustrated novelist and one of the original Mad Men of Madison Avenue.
A young television reporter, Teresa Bruce, stumbles onto the story of their love and quickly becomes one of Byrne's "collected daughters." Byrne and Teresa's friendship is a dance between love and madness, loyalty and the truth, and speaks to anyone who has ever needed and cherished the love of an "Other Mother."
Bruce is giving her first talk about the memoir as a featured speaker for Charleston's TEDx on May 15th ( http://tedxcharleston.org/speakers/) and plans a launch event and "Other Mother soirees" in Beaufort this fall. You can also follow her "Womenisms" blog at www.teresabrucebooks.wordpress.com .