Beach Sweep's back! Mark your calendar for Saturday, September 20th, 2008 8am – Noon.
Beach Sweep/River Sweep—organized by S.C. Sea Grant Consortium in partnership with S.C. Department of Natural Resources—is the largest one-day litter cleanup of South Carolina's beaches and waterways.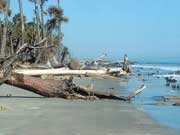 Every third Saturday in September thousands of South Carolinians volunteer to clear trash from our beaches, rivers, lakes, marshes, and swamps. Last year, nearly 6,000 South Carolinians from the mountains, through the midlands, to the coast collected over 57 tons of trash from our waterways. The 2008 Sweep will be held on Saturday, September 20th from 9am-noon.
Beach Sweep/River Sweep is an annual event for South Carolina since 1988 and is held in conjunction with The Ocean Conservancy's International Coastal Cleanup, which involves several hundred- thousand volunteers in over 75 nations.
The Coastal Discovery Museum will be in charge of Burkes Beach on Hilton Head Island. Burke's Beach is located off William Hilton Parkway (business 278) at Burke's Beach Rd. There is limited parking at the beach entrance, but there is plenty of parking in from of Chaplin Park, one block away from the beach. Museum volunteers will be handing trash bags, gloves, and data cards to collect and record the trash found on the beach. The full bags can be place next to the trashcans on the beach or can be brought back to the beach entrance, where the beach patrol will pick them up at the end of the morning. Volunteers are requested to report to Burke's Beach between 8 and 11 a.m. the morning of the sweep. No need to register as a volunteer, just be on the beach!
At the north end of Beaufort Country, Friends of Hunting Island are gathering to sweep that beach, too! Volunteers should meet at the Lighthouse at 10:00 AM At approximately 11:30 am lunch of hamburgers and hot dogs will be provided by our wonderful friends of the Low Country Rotary at the lighthouse picnic area.
Wear old shoes and bring drinking water, gloves and bug spray. Please let them know if you plan on participating. Registration is required.
Beach Sweep/River Sweep benefits South Carolina's environment, citizens, and visitors by: removing unsightly and potentially harmful debris; promoting stewardship in our communities; increasing awareness of the heavy toll litter takes on the economy and the environment; and educating people on the importance of recycling.
Litter and debris are threats to fish, wildlife, and our natural resources. It's also a health and safety threat to swimmers, boaters, and fishers, as well as an economic threat to industries such as tourism and recreation.
Thanks to our volunteers, approximately 943 tons of trash have been collected, recycled, and removed from South Carolina's waterways over the past 20 years!