United Way launches most ambitious campaign ever! United Way of the Lowcountry, Inc. volunteers on Wednesday announced a $2.725 million goal for this year's community campaign – the highest ever for the local United Way.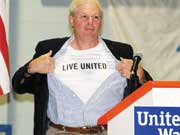 But the road was made smoother by 130 Pacesetter businesses that ran early campaigns and turned in $437,065, to jump-start the campaign with 16 percent of the goal already in at Wednesday's kickoff.
United Way Board of Directors Chairman Jack Alderman praised the campaign chairs and their volunteers for their hard work, and the Pacesetter businesses for their generosity.
The kickoff event was held at The Boys and Girls Club in Bluffton, a United Way agency that provides quality child development services for children of working parents. The event included a performance and video from this year's United Way of the Lowcountry's song contest winner Amiri Farris, as well as a live "kick off" by Chris Gardocki, a former member of the Pittsburgh Steelers Super Bowl XL championship team.
The video can be viewed on YouTube at: http://www.youtube.com/watch?v=0hDlA9-DMFM
Additionally, cheerleaders from the Bluffton High School varsity squad and "mini-cheerleaders" from The Children's Center in Bluffton (a United Way of the Lowcountry-funded agency) provided a spirited backdrop to the kickoff by performing cheers throughout the event.
Making a special guest appearance, 8-year old Miss Phoebe Capps sang the National Anthem and led the attendees in the Pledge of Allegiance.

During the kickoff event Alderman noted that United Way agencies and services will touch the lives of thousands of people in Beaufort and Jasper counties next year, making the success of the community campaign vital to the communities we live in. "The availability of human services at times like these is particularly important. Our current economic environment makes keeping a job and paying a mortgage and putting food on the table more difficult than ever," said Alderman. This year's contributions will fund 39 local agencies and services that provide critical help to thousands of residents all year long.
With needs growing as the population increases, United Way Community Investment volunteers who screened applicants recommended, and the board approved, the highest campaign goal ever in our community. The campaign will benefit 39 partner agencies as well as services such as Help Line and the Volunteer Centers.
Campaign chairs Helen Ryan (Hilton Head Island), Ed Saxon (Beaufort area) and Michael Reeves (Bluffton/Jasper County) applauded their volunteers and acknowledged the importance of their effort. "We have a saying at United Way – LIVE UNITED," Ryan said. She pointed out that:
· In Beaufort County, 11 percent of the population live in poverty, while in Jasper County, 21 percent of the population live in poverty.
· 52 percent the children in Beaufort County public schools qualify for free or reduced-price lunches; 82 percent in Jasper County.
· At least a quarter of Beaufort County residents earn too little to afford half the price of an average home; and
· 30,000 thousand adults who live or work here function at the two lowest literacy levels.
· 1,569,366 pounds of food were provided to hungry people in 2007.
"United Way makes every dollar count," Saxon noted, "with volunteers… providing time, talent and resources, which frees up more dollars for helping people. These volunteers also help agencies measure the community impact of every program."
Every single gift helps, Reeves emphasized. "Everyone's gift is combined with everyone else's, and through our investment in our partner agencies, your dollars helps children, the elderly, the poor, the terminally and much more in Beaufort and Jasper counties."
In the past 13 years, through successful annual community campaigns, grants and partnership funds, the United Way has invested more than $30 million in the local community.
To contribute, to volunteer or for more information, call 843-982-3040 in Beaufort, 843-686-4304 in Bluffton/Hilton Head and 843-645-6500 in Jasper County.