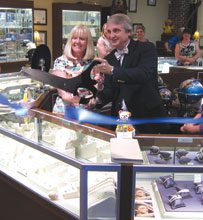 Bay Street Jewelers celebrates 75 years in the heart of downtown Beaufort.
Last Wednesday afternoon, Mark and Terri Stokes finally cut the ribbon they never got to cut 25 years ago when they purchased Fox Jewelers, which was already a staple of downtown Beaufort after 50 years in business.
This month, Mark and Terri are celebrating 25 years as owners of Fox-Bay Street Jewelers, Inc. – known to Beaufortonians simply as Bay Street Jewelers – and a gem of a local legacy now 75 years in the making.
Mark Stokes, one of only a handful of certified gemologists in South Carolina, got his start as a 16-year-old boy working at a local jewelry store in his (and Terri's) hometown of Sumter.
"The interesting thing is that I didn't know my wife at the time, but her brother had just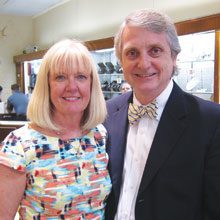 stopped working at this same store after five years. (Now he owns a jewelry store up in Spartanburg.) I kind of took his place at age 16, stayed with it, went out to GIA – the college that trains gemologists – came back and immediately met Paul Isaac, the son-in-law of Ben Fox. He asked me to open a Fox Jewelers for him on Hilton Head. By that time, I was dating Terri. We did the long distance thing for about six months, until I finally said, 'I'm miserable! You've got to marry me and move to Hilton Head.' She did, and our son Brandon was born on Hilton Head in 1987. In 1988, we moved to Beaufort to take over the main store, and in 1991, we bought it."
Brandon Stokes was at the ribbon cutting last week, having made a quick trip from his home in Charleston, where his wife is expecting their first child any day now. Brandon reminisced about working at Bay Street Jewelers as a kid. "High school, college, during the summer, spring break, Christmas… It was always a lot of fun. But I'm an engineer. I had to take my own path." Brandon is the Stokes' only child, so the "family business" will probably pass to some other family eventually, much like it passed from Ben Fox to Mark and Terri Stokes, by way of Fox's son-in-law, Paul Isaac.
But Mark and Terri Stokes have no intention of retiring any time soon. After all these years, they still enjoy the business . . . and enjoy working together. "We don't get in each other's way too much," Terri laughed. "I know nothing about diamonds and Mark knows nothing about bookkeeping, so we both kind of do our own thing while we're here."
According to Mark, being a small town jeweler is "the most awesome thing in the world. I get to celebrate people's occasions. People walk through that door – and it's a birthday, or an anniversary… a wedding or the birth of a child. We're also doing a ton of 40th anniversaries these days."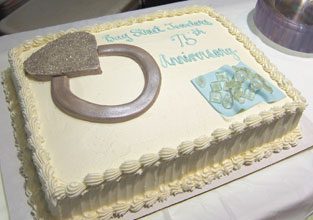 With all these milestones to commemorate, Mark and Terri are, perhaps, more acutely aware of the passage of time than most of us. "Not only is the store getting older, but we're getting older," said Terri. "Because now we're starting to serve some of our clients' children. A new generation. It makes me feel old, but it's so gratifying! A young couple came in last year, and she said, 'My mother's engagement ring came from here, so I knew I wanted my ring to come from here.' That just feels great. Now our son's married, and all his friends are getting married, so you're watching the children you helped raise, so to speak, getting engaged, married, having children of their own . . ."
Mayor Billy Keyserling attended ribbon-cutting – along with representatives from Main Street Beaufort and the Chamber of Commerce – and said the ongoing success of Bay Street Jewelers is a testimonial to the Stokes' business commitment. "Their understanding of business, of marketing, of pricing, of customer service." It's also an important demonstration, he said, "of how a downtown store can work, and work very well, and be such an integral part of the community."
To say "thank you" to that community, Bay Street Jewelers is currently hosting its first storewide sale… ever. Some items are marked down by as much as 75%, "but even 10% is huge for us, because we just don't have sales," said Mark. "We really wanted to thank the community. That's what this is all about."
Our conversation with Mark Stokes was interrupted by the sound of a jet flying overhead. Later he told the ribbon-cutting crowd: "Ben Fox started this store in 1941, during war time, and he kept it sustained through those hard years. He was extremely invested in Beaufort. He stood beside giants like Brantley Harvey and Henry C. Chambers in the development of this town. But if there's one thing I need you to take away from this, it's that if there was any calamity in your life, Ben Fox was going be the first person at your door. He was a great gentleman, very personable, and he enjoyed helping people and consoling people in their time of need."
"Like Ben, we bought this store during war time. It was 1991, and the US was just going into the Gulf War. Two weeks after we bought the store, we watched as almost all the Marines here got deployed. 'Hey, where did everybody go?' We quickly learned the importance of the military in this town. So when we hear the jets flying over like they have been today, it's just awesome for us. We get it, we understand it, and we love this town."
Clearly, the town loves them back, along with Bay Street Jewelers.
Bay Street Jewelers will continue its 75th Anniversary Sale through April 9th. The store is located at 902 Bay Street in downtown Beaufort. For more information call 843-524-4165 or visit www.BayStreetJewelers.com