Divine Shoes announced today that it is hosting a shoe drive to benefit Soles4Souls™ Inc., the international footwear charity that delivers shoes to needy people around the world. Every 28 seconds Soles4Soles provides a pair of shoes to someone in need. The nonprofit hopes to donate a pair every 14 seconds in 2008.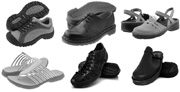 During the shoe drive, Divine Shoes will be offering a 15% discount to all customers who bring in gently worn pairs of shoes toward the effort. The shoe drive will begin on January 2 and will end on January 31. Divine Shoes is located at 223 Scotts Street in downtown Beaufort, SC.
"New Year's resolutions often include organizing your personal space," said store owner, Kathy Kilgore. "Cleaning out your closet is on the top of the list, and donating shoes that you may no longer wear provides a good opportunity to help others as well as yourself," said Kilgore.
Wayne Elsey, founder and CEO of the nearly three-year old nonprofit organization, started Soles4Soles after seeing images of the Asian tsunami in December 2004 and realized the victims' need for, among other things, shoes. "When a disaster happens, water and food is No. 1, housing is No. 2, and clothing and footwear is No. 3," he explained.
"We are thrilled that Divine Shoes is acting on our behalf to spread joy to people, both here in the United States and around the world," said Paul Wilson, President of Soles4Souls. "It is only because of proactive retail stores, such as Divine Shoes, that we are able to accomplish our goal of getting shoes on the feet of people who need them most," he said.
For more information on how you can get involved with this shoe drive and take advantage of the discount toward a new pair of shoes, contact Susan Collins, Manager, at (843) 524-4300.

About Soles4Souls
Nashville-based Soles4Souls™ facilitates the donations of shoes, which will be used to aid the hurting worldwide. Shoe companies, retailers, and individuals can donate footwear (both new and used). Soles4Souls is a 501(c)(3) recognized by the IRS; donating parties are eligible for tax advantages. Visit www.GiveShoes.org and Soles4Souls.org or call (866) 521-SHOE.