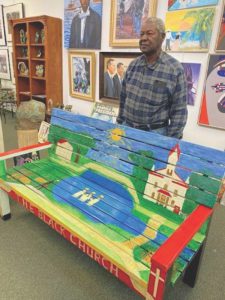 The Beaufort Cultural Arts District is seeking sponsors for Phase III of its Art Bench Project, an artistic celebration of the Beaufort area's history, culture and arts.
The project launched in 2019. Thus far, 12 benches, painted by local artists, have been installed throughout the Beaufort Cultural Arts District in downtown Beaufort. The benches commemorate the founding of Santa Elena, Reconstruction, the founding of the Mather School, the importance of Tabernacle Baptist Church, and many other cultural milestones.
The fee for sponsors is $750. The benches are built by Lowcountry Habitat for Humanity.
The deadline to submit an application as sponsor, as well as the proposed bench artwork, is March 4. Sponsors can select their own artist. Sponsors must own the property where the bench is to be located, or must have permission to place the bench there. Sponsors do not have to be located in the Cultural District to apply for a sponsorship.
Linda Silk Sviland, who painted benches in both 2020 and 2021, said, "I think it's a wonderful way to make art. Other cities have done beautiful sculptures, but there is no function other than beauty. This is functional art – it's a terrific way to have the public see art that is useful."
Rev. Johnnie F. Simmons stands behind the bench he painted last year entitled "The Black Church." This memorializes the Tabernacle Baptist Church, which was founded in 1811, and in 1863 became the first Baptist church for African-Americans in Beaufort.