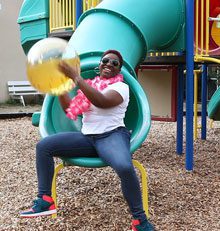 Please join the Wardle Family YMCA on January 19th at the Walsh Palmetto Room at St. Peter's Catholic Church on Lady's Island for the Beaufort Beach Ball Fundraiser & Auction presented by Bank of America Merrill Lynch. Doors open at 6 pm for music and dancing with Deas Guyz, silent auction, golf cart raffle, heavy hors d'oeuvres and full tikki bar.
Event tickets are $65 each or $120 per couple and $75 each at the door. They can be purchased at the YMCA in Port Royal (1801 Richmond Avenue) or online: beaufort-jasperymca.org. This year's golf cart raffle was supplied by Sutcliffe Golf Cars and is a 2009 Yamaha model with head lights, flip back seat, new tires and batteries and comes in cheerful yellow. Golf cart raffle tickets are on sale now at the Y and at the event for $25 each and 5/$100. The winner will be chosen at the Beaufort Beach Ball on the 19th, but you do not need to be present to win.
The Beaufort Beach Ball volunteer committee has been working for over a year to throw the biggest, most-bodacious beach bash this side of Palm Beach! This year's silent auction includes many wonderful items – large and small – from a complete 3-ton HVAC system to a trip to the California wine country to restaurant and spa gift certificates, a custom crafted live edge walnut coffee table, sports equipment, airline tickets, Walt Disney World Park Hopper tickets, artwork and more! The online silent auction will open for preview January 4, 2019 (visit beaufort-jasperymca.org) and online bidding will open Jan. 14. Bidding will close at 9:30pm on January 19 and winning bidders can pick up their item(s) during the Beaufort Beach Ball or at the Y in Port Royal on Monday, January 21 starting at 11 am.
Committee chair Dolores Fuller adds, "We're transforming the Walsh Palmetto Room into a sophisticated beachside cabana. And we're thrilled to have Deas Guyz as our entertainment! Deas Guyz is all about having fun and dancing, so we anticipate lots of folks out on the dance floor. We will also have heavy appetizer stations and dessert table – our food is being catered by the Chef Greg Lightener and the CATE program at Battery Creek High School. If you've ever had the opportunity to enjoy their cuisine you know it is superlative and if you haven't, you're in for a treat!"
This event is the only capital fundraiser for the Wardle Family Y and all proceeds will go toward an extremely important video surveillance system upgrade for the Wardle Family YMCA.
Kaylin Garst, YMCA Executive Branch Director says, "The safety of our members is a primary focus for the Y and this upgrade will provide security for everyone using the Y and especially for our children that attend Discovery Kids Preschool, summer camp and afterschool programs. Our facility must be safe, efficient and aesthetically pleasing or we cannot effectively run our programs. This means the Y's positive impact on our community may diminish, thus we raise funds for capital improvements with this event."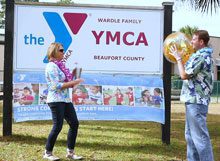 The Beaufort Beach Ball Fundraiser & Auction Committee wishes to thank presenting sponsor Bank of America Merrill Lynch, bar sponsor Carolina Air, Inc. and food sponsor First Federal Bank for their support. Additional thanks to the following sponsors:
Publix Super Markets Charities, Dean Hewitt, Cross Community Church, Lowcountry Insurance Services, Inc., May River Dermatology, Beaufort Memorial Hospital, Ralph& Dolores Fuller, Hargray, Fred & Everette Kuhn, Madison's Market, Carmen & Don Meyer, and Republic Services.
Amy & Will Achurch-Ballenger Realty, Beaufort Dog, Beaufort Janitorial Services of the Lowcountry, Betty Laurent Photography, Gary & Jan Caron, Gilbert Law Firm, J&J's Barber Shop, Palmetto Vending, Planting Roots Hydroseeding, Saulisbury Business Machines.
In-Kind Sponsors: Adams Outdoor Advertising, Amazing Event Rentals, Battery Creek High School Cate Program, Lowcountry Radio Group, Murr Printing, New South Shirts, Salt Marsh Brewing Co., Sutcliffe Golf Cars, The Island News.
Beaufort Beach Ball Fundraiser & Auction presented by Bank of America Merrill Lynch
Saturday, Jan. 19, 2019 from 6 pm – 11 pm
Walsh Palmetto Room at St. Peter's Catholic Church, Lady's Island
Tickets: $65 each; 2/$120; $75 at the door
Purchase at the Y or online: beaufort-jasperymca.org
Golf Cart Raffle tickets on sale now $25 each & 5/$100 at the Y or at the event
Silent Auction opens for previews January 2, 2019!beaufort-jasperymca.org
For more information on the Beaufort Beach Ball stop by the Y in Port Royal, call 843-522-9622 or visit: beaufort-jasperymca.org
The Wardle Family YMCA was charted in 1990 and opened its doors in June 1996. The YMCA is a locally autonomous non-profit organization made up of voluntary membership that is open to individuals of all ages, race, religion, incomes and abilities. The mission of the Beaufort-Jasper YMCA of the Lowcountry is to put Christian principles into practice through programs that build healthy spirit, mind and body for all. The Beaufort-Jasper YMCA of the Lowcountry currently serves approximately 10,000 individuals annually through the programs and services provided in Beaufort and Jasper counties.