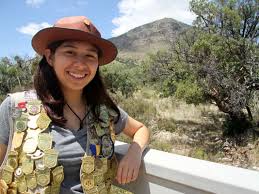 Fifteen-year-old Junior Ranger Aida Frey, from Chicago, is the new face of the National Park Service. She
and her family have visited 265 National Parks in 6 years, during which time she
has been featured one many websites and park flyers, in magazine articles and two YouTube videos: one at Thomas Edison National Historic Site and the other from Richmond National Battlefield. Aida has also been featured on TV stations around the country, and has been interviewed on several radio stations. She's a Student Council member at school, an Alter Server at Church, a hockey player, and a reading club member at her local library. Aida is featured in the Eastern National Bookstores Facebook and Twitter accounts, and is a Guest Blogger with the National Park Foundation. Known around the country as the "Sweetheart of the National Parks," Aida has even written a book,
American, Can I Have Your Autograph, the Story of Junior Ranger Aida Frey.
            On March 27 and 28, Aida Frey and her family will be in the Beaufort area, adding another autograph to her book. They will be visiting the newly-minted Reconstruction Era National Monument. If you see the Freys, welcome them to the Lowcountry!