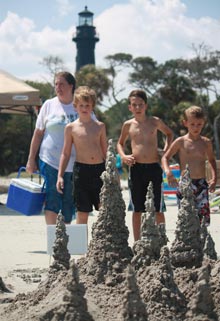 The Friends of Hunting Island will sponsor the 4th Annual Sand Sculpture Contest at Hunting Island State Park on Saturday, July 28th.
The contest runs from 1 – 4 pm, with the awards ceremony scheduled to begin at 3:30. Contestants register at the North Beach, near the historic, 153-year old lighthouse.
There is no cost to compete and entertainment will be provided by local musical favorites, the Side Street Walkers.
Gather your kids, friends, co-workers and put a team together. You can enter as an individual or as a team. Prizes will be awarded in each category and those categories are as follows: Sand Fleas (up to 8 years old – Must have an adult as a leader); Sand Hoppers (ages 9 –15); Sand Tribes (families); Sand Shapers (adult or small team of adults); and Overall Best in Show.
Tools permitted to build your masterpieces are buckets, shovels, sand scoops, carving tools, putty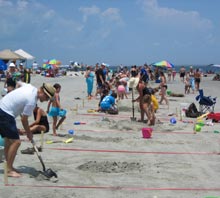 knives, spray bottles for water, and kitchen utensils. Materials are limited to only natural materials found on/near the beach. Decorations such as shells, reeds, and small rocks may be used. No artificial decorations or materials are permitted.
Judging of the final products will be based on originality, composition, and technique. Last year, there were 30 sculptures created by more than 100 sand sculpture aficionados. Join the Friends for their 4th annual event and help them make it the biggest ever. See you at the beach!
For more information:  Bruce Doneff, Friends of Hunting Island, Director of Communications, 843.476.3022. (Regular park admission fees do apply.)