Dinner parties for four are getting to be regular events at our house. Vince and I love to entertain! Since LCW column deadlines keep on coming, these intimate dinner parties have been (and hopefully will continue to be) excellent opportunities for me to taste test and photograph new recipes. This week, we opted for an easy entree that is par-baked and quickly finished with BBQ sauce on a hot grill. The orzo salad and marinated tomatoes should be made ahead and refrigerated until ready to serve. The brie appetizer can also be put together an hour or two before your guests arrive. Pop it into a 350-degree oven for 20 minutes just before you open your first bottle of wine. Everything can easily be doubled or tripled to include even more guests. You'll only need to add a tasty dessert. Happy Cooking!
Baked Brie with Fruit and Nuts
1 (16-ounce) brie cheese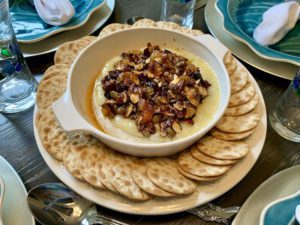 ½ cup fig jam or preserves
¼ cup dried cranberries
¼ cup dried pineapple, chopped
¼ cup dried apricots, chopped
¼ cup sliced almonds
¼ cup chopped pecans
2 tablespoons salted pepitas
¼ cup honey
Preheat oven to 350 degrees. Spray an oven-proof dish with baking spray. Remove top layer on rind from the brie. Place cheese in prepared dish. In a small bowl, mix fig preserves with dried cranberries, pineapple and apricots. Stir in sliced almonds, chopped pecans and pepitas. Top brie with fruit and nut mixture. Bake in preheated oven for 20 minutes or until cheese is melted. Drizzle with ¼ cup honey before serving. Serve with crackers or crostini. Serves 8.
Arugula Salad with Herb-Marinated Tomatoes
If these tomatoes look familiar to you, you're correct! I shared the marinade recipe a few weeks ago. To make the salad, top fresh arugula with marinated tomatoes and drizzle with some of the marinade.
Fresh arugula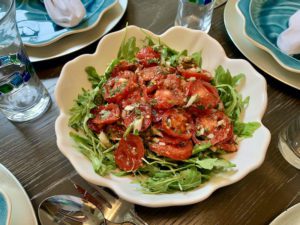 3 to 6 tomatoes, sliced
1/3 cup white wine vinegar
1/3 cup finely chopped onion
1 tablespoon chopped fresh cilantro leaves
¼ cup chopped fresh Italian parsley
¼ cup chopped fresh chives
½ teaspoon dried marjoram
½ teaspoon dried tarragon
½ teaspoon salt
¼ teaspoon pepper
1/3 cup extra-virgin olive oil
Arrange tomato slices in a shallow glass dish. In a small bowl, whisk remaining ingredients together; pour over tomatoes. Cover and marinate in refrigerator for a least 5 hours.  To make salad: place fresh arugula in a large salad bowl. Top arugula with marinated tomatoes. Drizzle with some of the tomato marinade before serving. Serves 8 to 10.
Ray-Ray's BBQ Ribs
5 pounds pork baby back ribs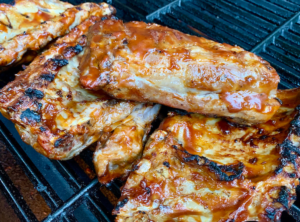 Salt and pepper, to season
2/3 cup Heinz 57 Sauce
½ cup Kraft BBQ Sauce
1/3 cup buffalo wing sauce
2 tablespoons ketchup
Preheat oven to 250 degrees. Season ribs with salt and pepper and place in a turkey-sized oven cooking bag (or wrap tightly in heavy duty aluminum foil) on a baking sheet. Cook for 2 to 2½ hours or until meat is tender. In the meantime, mix Heinz 57, barbeque sauce, buffalo wing sauce and ketchup in a small bowl. Preheat grill. Continue cooking ribs, basting with barbeque sauce, until ribs are slightly charred and warmed through. Refrigerate any unused sauce. Serves 6 to 8.
Orzo and Olive Pasta Salad
1¼ cups (8 ounces) dried orzo pasta
¼ cup extra-virgin olive oil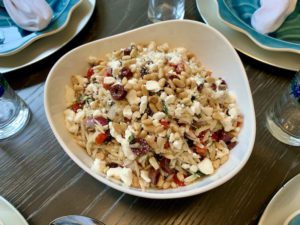 ¼ cup red wine vinegar
1 tablespoon fresh lemon juice
2 tablespoons honey
½ teaspoon garlic powder
½ teaspoon freshly ground black pepper
1 teaspoon salt
1 large red bell pepper, diced
1 cup sliced kalamata olives
¼ cup chopped red onion
½ cup chopped fresh Italian parsley
¾ cup crumbled feta cheese
½ cup pine nuts, toasted
Cook orzo to al dente, according to package directions. While pasta is cooking, whisk together olive oil, vinegar, lemon juice, honey, garlic powder, pepper and salt in a medium bowl. Add bell pepper, olives, red onion and parsley; toss lightly. Drain cooked pasta and let cool for 5 minutes. Add pasta to the vegetable mixture and toss to coat. Garnish with feta cheese and pine nuts. Serves 6 to 8.
The writer owns Catering by Debbi Covington and is the author of three cookbooks, Celebrate Beaufort, Celebrate Everything! and Dining Under the Carolina Moon. For more great recipes and to view her cooking demonstrations, visit and subscribe to Debbi's YouTube channel. Debbi's website address is www.cateringbydebbicovington.com. She may be reached at 843-525-0350 or by email at dbc@cateringbydebbicovington.com.