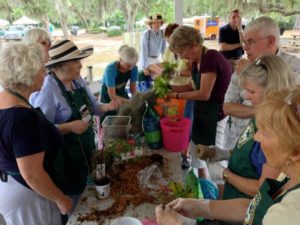 After missing two summers of Lunch and Learn classes due to Covid, the Lowcountry Master Gardener Association is very pleased to announce a fall class this year! Beginning the first Saturday in September, and continuing until the last Saturday in November,  the park at the Port Royal Farmers' Market  will again host a series of classes, lectures and workshops about gardening in this unique climate.
Since the gazebo would not allow for social distancing, Lunch and Learn will be held where we first started – under the live oak tree at Heritage Park. The classes are free; just show up at noon with a folding chair.  No registration is necessary.
"Due to the alarmingly high rate of new Covid cases in Beaufort, we are asking that you attend the Lunch and Learn lectures only if you have been vaccinated," says Sandra Educate, the project's producer. "Also, we ask that you wear face coverings even though the event is outside. People in the same 'bubble' may sit together, but social distancing will be required. An abundance of caution is a small price to pay to attend, and we hope you understand."
Since 2010, Educate has enlisted a very talented group of presenters to talk and instruct about the challenges of gardening in Beaufort County.  "We have professionals and talented Master Gardeners giving educational and entertaining classes.  Audience participation is encouraged and we always have wonderful door prizes of plants and books donated by the presenters and attendees.  Some of the plants donated are daughters and granddaughters of plants won as door prizes at previous Lunch and Learns!", Sandra reports. "Lunch and Learn has become an institution here in Beaufort and we're so glad to be able to continue it."
2021 Lunch and Learn Schedule
Noon at Heritage Park, Port Royal Farmers' Market
Under the Live Oak Tree
September 4th       Jay Weidner             Plant Now, Divide Later and other fall chores.
September 11th     Laura Lee Rose          Xeriscaping is not just Cactus.
September 18th     Martha Jamison        Care and Feeding of Orchids
September 25th     Victoria Bergesen     Terrarium Mini-Gardens
October 2nd            Kimberly McFann     Natural Pest Management
October 9th             Wendy Hilty               Designing with Perennials
October 16th           Dorothy Williamson            Worms, a Gardener's Best Friend
October 23rd           Kathleen Grewenig   Glorious Irises
October 30th          George Cannon         Camellias-A Southern Heritage Plant
November 6th        Jay Wiedner               Putting Your Plant Children to Bed
November 13th      Ned Rahn                   Citrus for the Lowcountry
November 20th      Sandra Educate         Bulbs for Beaufort
November 27th      Panel                            Keeping it Growing