No, it's not a culinary club for comic book heroes, but it does represent a partnership between two forces for good – Main Street Beaufort and the Historic Beaufort Foundation. Thursday May 17th these two organizations will unveil the inaugural assembly of The Supper Society, a dining extravaganza held in a secret location prepared by two master chefs. The proceeds from the evening go to local preservation and revitalization efforts. The location and menu will be revealed to ticket holders two days before the event.
"I got the idea watching a History Channel program on Guerilla Cuisine, " says MSB Executive Director LaNelle Fabian.
Guerrilla Cuisine (guerrillacuisine.com) is a kind of roving underground culinary society dedicated to spotlighting local producers and known for staging elaborate dining experiences in secret locations, sometimes by emailing attendees GPS coordinates.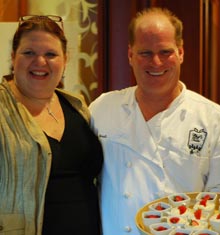 Fabian and Julie Good, her counterpart at HBF, had long sought a partnership opportunity as both organizations are affiliated with the National Trust for Historic Preservation.
The timing seemed right as Beaufort hosts the Trust's annual Preservation Leadership Training in June and both orgs are looking to fund a Façade Grant Program to help local businesses and residents with restoration and preservation efforts.
"We're still working out the details on the grant program," says Good, "so all the proceeds from this event will go to help fund the leadership training."
Along with the motivation for the project came a reservation (so to speak).
"I know we've got the chef talent and the local resources," says Fabian, "I just wasn't sure we had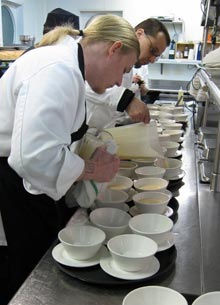 enough foodies in the area." Fabian and Good talked to some local chefs who put those fears to rest. Eventually Chefs Christopher Hewitt (Southern Graces Bistro) and Brian Waters (Saltus River Grill) signed on for the debut event.
"A few years ago might have been too soon for something like this," says Waters. "But it seems with each passing year people are more and more aware of food, where it comes from and how to appreciate it. People are more attuned to eating good food and I think our local foodie community is growing."
"I've wanted to do something like this in Beaufort for a long time," says Hewitt. "We are very excited about the Supper Society. We'd been discussing a dinner of this nature for a while and finally all the stars have aligned."
Waters and Hewitt will split duties for the evening. The menu's so secret we can't even hint at the ingredients for fear of being visited by ninjas in the night (and we hate ninjas). But we can disclose (without fear of ninja attack) that everything in all four courses will be locally sourced, spectacular and prepared on site by two of the most talented chefs in the business.
"It's going to be a bit of a challenge uprooting from the comfort zone of my kitchen to prepare something I'd be proud to put my name on," says Waters, "but in the end it's going to be a lot of fun."
Hewitt sees the Supper Society as an adventure for everyone involved – hopefully, the first of many to come as the HBF and MSB eventually hope to do one each quarter.
"We really want to come across as rustic and elegant and have a lot of fun with it," he says, "but not too crazy. Once we get the people hooked on the local ingredients and come up with really great ways to present them in amazing locations, Supper Society's going to be an all sensory, inclusive sort of series. I'm really excited by that."
THE DETAILS
You're invited to the inaugural SUPPER SOCIETY Thursday, May17th at seven o'clock in the evening. Location and full menu will be revealed to guests on Tuesday, May 15th.
Cost is $65 per person and the event is B.Y.O.B. (trust us on this, we recommend a nice Sauvignon Blanc and a good Pinot Noir). As seating is very limited an R.S.V.P. is required.
TIPS FOR TRIP
Kids from LOUD (Living Out Ur Dreams) will be helping out as servers. There gratuities go to help pay for trip to San Francisco to compete in the new HBO series "Brave New Voices."
Call 843-379-3331 or 843-525-6644 for more information and reservations.
Reservations can also be made online at www.historicbeaufort.org
Get involved with Main Street Beaufort at www.downtownbeaufort.com
Learn more about the National Trust at www.preservationnation.org and HBF at www.historicbeaufort.org
Editor's Note: The food seen here, while indicative of the chefs' creativity, is not representative of anything on the menu for the first meeting of The Supper Society… as far as you know.