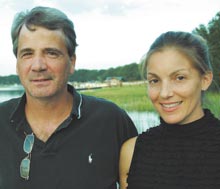 The people behind longtime Beaufort favorite, Emily's Restaurant and Bar, bring

back seafood with a view to the Lady's Island Marina.
PROLOGUE
True story. Back in the days before iPads, smart phones, social networking or the basic concept of a second Star Wars trilogy, I spent most of a summer working at an iconic seafood restaurant on the Grand Strand. Mostly I broke dishes, but in spite of all the crashing and yelling, I fell in love with the restaurant business and remain so to this day. This is entirely due to the fact that I learned in those few noisy months that I should never actually work in the restaurant business.
Nevertheless, I gleaned a few things. Among them, that people who make a living in kitchens are generally skilled with knives (not always in a good way). But the most important thing I escaped, er, learned from that summer is that cooks have secrets and these secrets are called recipes. Oh, and never buy fish on Monday.
Tiny secrets can be big deals. This restaurant was renown for a number of dishes, but people came from far and wide for the hushpuppies. I can still taste them. Indeed, many who left the employ of this establishment entered a 12-step program to wean themselves from these addictive cornmeal-based delights. And that's the thing. The essence of these tasty bits was a complete secret. When a batch had to be whipped up, the chef shooed everyone out of the kitchen, locked the doors and cranked up Led Zeppelin – as if the very sound of his actions might give him away.
In the midst of a full-on Moveable Feast feeding frenzy a couple baskets of Chef Mike Long's hushpuppies literally hushed the table. No mean feat. I share my hushpuppy story.
Owners Tommy and Mary Winburn relate immediately.
"You'd think something as simple as a hushpuppy wouldn't be so difficult to get right," says Mary.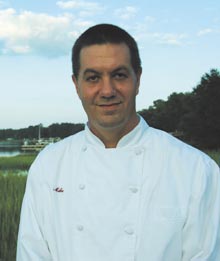 "Out of everything on the menu, the hushpuppies were the most work."
Ten minutes later the table talk is all about hushpuppies when Mike returns.
"It's a consensus: these are some of the best we've had. What's the secret?"
The tall man shifts uncomfortably before he answers.
"Well, we started with heavy cream, we started with beer, we started with all sorts of things." He pauses. "What it is now, I can't tell you."
(Laughter)
He smiles. "But we got it. We finally got it."
And what about the secret recipe?
"I keep it in my pocket," he deadpans.
THE SUSTAINABLE TABLE
This is how The Moveable Feast works: the Lowcountry
Weekly staff convenes at a restaurant. We chat a bit with the chef/owners about what's on the menu. I turn on the digital recorder to (hopefully) capture witty food-based conversation while madly scribbling notes and trying to photograph the food* before each plate is stripped bare. The idea is to let the food speak for itself.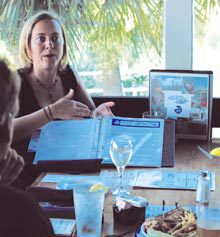 This evening is a bit different. Rounding out the table are the magazine staff (myself, Wendy Politzer, Jeff & Margaret Evans with daughter, Amelia – AKA: The Kid Factor), restaurant owners Tommy and Mary Winburn, Mary Godley of Southern Wine & Spirits and Megan Westmeyer. Westmeyer's presence is significant. She is the Coordinator for the Sustainable Seafood Initiative at the South Carolina Aquarium. Both Emily's and Factory Creek have joined the program designed to promote the use of local and sustainable seafood in South Carolina restaurants (see sidebar). Factory Creek hosts Beaufort's first Sustainable Seafood and Wine Dinner November first (see ad for info).
Sustainability spills over into the restaurant's wine list according to Godley, who's helped craft the lists at both restaurants. The Terrazas Malbec from Argentina – the evening's featured red – is carefully produced through sustainable farming methods, the vineyards fed by snowmelt from the Andes. More on wine later.
Starters & Sandwiches
Local Peel & Eat Shrimp
Sweet Pepper Shrimp
Seared Ahi Tuna with Wakame Salad
Blackened Grouper Sandwich w/Factory Creek Fries
The Reuben w/Factory Creek Fries
This is the warm up for what's coming. Conversation subsides. Plates are passed around.
The feast is underway.
I dive into the Seared Ahi and Wakame while the rest of the table is divided between sampling the sandwiches and trying to coax The Kid Factor into trying a shrimp (not happening). I leave the Reuben to the experts. The tuna, however, is mine. Back away slowly, drop the Wakame and nobody gets hurt.
One of the great pleasures of Lowcountry life is fresh local shrimp. I generally prefer m
ine the simplest way possible: peel & eat with a little homemade cocktail sauce on the side. These beauties were harvested this morning by local shrimper Robert Gay and they are bright pink, firm and sweet. Apart from an oyster plucked right out of the water, this is as close as you're likely to come to literally savoring the flavor of the Lowcountry. In this writer's humble opinion fried shrimp are usually a waste of time and a terrible waste of good crustaceans. Nevertheless, fried shrimp may be the most popular menu item at any seafood spot. I usually find them over-battered, over-cooked and grease-soaked. Mike's Sweet Pepper Shrimp is panko crusted, lightly fried and topped with the namesake sauce. The result is bright, crunchy and succulent without the grease, an instant favorite.
A BRIEF RANT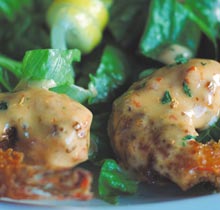 We live in shrimping country. Generations of Lowcountry families have trawled these waters and each year they seem to dwindle in number. Here's one reason. If you're ordering fish or shrimp in any place with a corporate logo, you're also ordering something that's probably been raised in filthy ponds, fed hormones, pumped full of chemicals, frozen and shipped thousands of miles – all with an absolute minimum of quality control. Mmmmm. Tasty! Think of it this way, when Red Lobster opens its doors in Beaufort, every dollar spent is a dollar out of a local fisherman's pocket – out of the local economy. Ponder that the next time you're tempted to pay $14 a pound for imported shrimp in the supermarket when you can get fresh caught wild shrimp right down the road for half the price. Eat local. Buy local. That's all.
TABLE TALK
J. Evans: "A real Reuben is hard to come by around here. This is a real Reuben."
M. Winburn: "We hear that a lot from people who are very particular about their Reubens. I've had guests say it's the best they've had."
Chef Long: "We do the whole brisket in corned beef seasoning – not pickle seasoning – cook it up, trim the fat and slice it thin."
M. Evans: "The Grouper has a nice kick.
J. Evans: "Just the right zip.
LOCATION TEMPTATION & THUNDERSTORM VIEWS
The Winburns had long dreamed of owning a restaurant on the water. When the property hit the market in late 2010 the opportunity was just too tempting to pass up.
"We made an offer, they took it and we were tickled to death," says Tommy.
They went in with a simple goal: create a casual, quality waterfront dining experience unique to Beaufort. The key to getting it right was Executive Chef Mike Long who grew up just a stone's throw from the marina and swam and fished here as a child (see sidebar).
"We wanted to do something completely different than Emily's," he says, "something less formal, more laid back."
"The idea was to make it affordable and family friendly," says Mary Winburn. "And then there's all of this." She motions to the expansive floor to ceiling view of the marina, marsh and the river beyond. "It's beautiful all the time, but sitting here watching a thunderstorm come across the marsh is spectacular."
"I come in here with work to do and the view's so salty all I want to do is sit down and have a beer," says Tommy. "It's like working on a boat."
As for the two restaurants, similarities begin and end with a few select dishes and sides.
"There's not a lot of menu crossover between the two restaurants," Mary Winburn explains. "We do have the Steak Au Poivre and we had to have the Shrimp & Grits."
"We didn't want to copycat Emily's wine list, which is more fine dining," says Mary Godley, who describes the Factory Creek selection as small but well rounded. "Value comes first. Nothing is over $7 a glass. There's also a nice split of Spanish Cava (sparkling white wine) for $7 that pours two perfect glasses, a great choice for dessert."
Wines from California's Wente Vineyards, the nation's oldest family run winery, are also served at both restaurants. Fourth generation winemaker, Carolyn Wente, owns a home near Beaufort and hosts the occasional tasting at Emily's. Godley says that's a foundation on which the Winburns and Chef Long plan to build at Factory Creek.
THE ENTREES
Seafood Alfredo
Shrimp & Grits
Café con Carne
Crab Stuffed Grouper
A brief hush falls over t
he table as the entrees are passed around. The competing aromas are intoxicating, the choices overwhelming.
I can't help but dip into the Shrimp & Grits. The dish has become ubiquitous, even over-exposed in the Southeast. Everyone seems to offer a riff on it. Once at a tony area eatery I was actually served a variation without a single shrimp. Seriously. The origin of the dish itself is Lowcountry peasant food, something poor people could throw together for nothing and this version – the Emily's recipe – is the real deal. The shrimp are fat, fr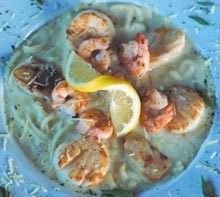 esh and plentiful. The sauce is hearty and spiked with chunks of andouille sausage, peppers and onion and the grits are thick and creamy.
The Seafood Alfredo is decadence on a platter. It's almost too pretty to eat, as are most of these plates. Giant pan seared scallops, shrimp and tender hunks of grouper share a bed of linguine tossed in a creamy Alfredo and topped with freshly grated parmesian. Complimenti alla cuoca!
TABLE TALK
M. Godley: The fresh grilled vegetables with the entrees are beautiful. It's not a second thought – they're a real part of the meal, not a pile of mush.
M. Shaffer: The skillet-roasted potatoes are dangerous. Did you steal the skillet from Emily's?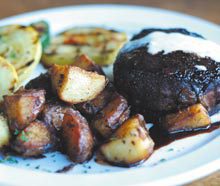 Chef Long: (Laughs) No, we got our own. Took a while to get it seasoned, but now it's just right. And all the veggies are as fresh and local as possible. I will not buy frozen. Never.
Finally the Café con Carne, the dish with the highest curiousity factor (see the sidebar with Chef Long). Godley recommends the Joel Gott Cabernet – a red hearty enough to stand up to the bold flavors of the dish, and there's flavor aplenty. The beef filet is crusted in coffee, seared, finished in a red wine reduction and topped with Roquefort cheese. I know what you're thinking. Trust me. It works.
DESSERT
Triple Layer Chocolate Cake
Key Lime Pie
Blueberry Cheesecake
Cocoa Crème Brulee
Dessert, or as I refer to it "The Lightning Round" in which things have a way of disappearing. Fast.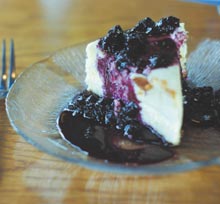 All of Factory Creek's desserts are scratch made and taste like it. The cheesecake somehow manages to be both sinfully rich and light. The blueberry topping seals the deal. I'm a Key Lime Pie addict and this one is a perfect balance of tart and sweet. The Cocoa Crème Brulee gets and enthusiastic "thumbs up" from The Kid Factor. And the Triple Layer Chocolate Cake, well, it's like Mom used to make. Really. (Sorry Mom).
Forks and spoons scrape up the last morsels of what has been a truly phenomenal dining experience. We adjourn with a standing ovation for the chef.
EPILOGUE
The party gradually scatters. Another feast is in the books – the final chapter in this series. Fear not, something new and tasty is in the works. As I make my way to the parking lot the Sea Island breeze ripples across the river and the spartina grass and the rich scent of salt marsh turns me back around. I wander down to the dock to watch the sunset backlight the Old Point, the bridge and the town beyond.
THE LOWDOWN
Location: 71 Sea Island Pkwy, Ladys Island Marina (across from Butler Marine)
Cuisine: "Affordable and exquisite tastes combine to make Factory Creek Fish Company Beaufort SC's best casual seafood dining experience."
Atmosphere: Relaxed and casual with a spectacular view.
Alcohol: Full bar, good selection of taps & bottle beer, value wine list, daily happy hour food & drink specials 4-7pm
Hours: Monday – Saturday 11am – 10 pm, Sunday 11am – 9pm
Phone: 843-379-3288
Online: www.factorycreekfishcompany.com and on Facebook
Etcetera: Plenty of free parking and space available docking at the Marina. Enjoy the river breeze on the deck beneath moss-draped live oaks. FC2 offers complete catering and great take out.
Get more online:
www.factorycreekfishcompany.com
Congratulations to Chef Mike Long and the staff at Emily's Restaurant and Bar, winners of the Best Shrimp Recipe at the 2011 Beaufort Shrimp Festival. Find them on Facebook and at www.emilysrestuarant.com.
Visit www.lcweekly.com and click on "Food & Drink" to read The Moveable Feast at Emily's.
* Each dish photographed for the Moveable Feast was done so at the table and is the actual food served and consumed. What you see is literally what you get.
Mark Shaffer's email address is backyardtourist@gmail.com